Rolex Daytona Alternatives For Every Budget
Not only is the Rolex Daytona one of history's most famous chronographs (arguably in the top three—maybe top two depending on who you ask), but it's notoriously difficult to get a hold of. So, we've rounded up some choice Rolex Daytona alternatives here, for every budget. After all, even if you manage that elusive opportunity to simply buy an actual Daytona, there's that entry-level $15,000 price tag. And that's if you're unbelievably lucky. Chalk it up to low production numbers and the watch's complicated, well, complications.
We've got a range of options and priorities too. Just looking for a cheap watch with a similar vibe? Check. On the search for another Swiss chronograph with just as much heritage? Checkmate.
Under $15,000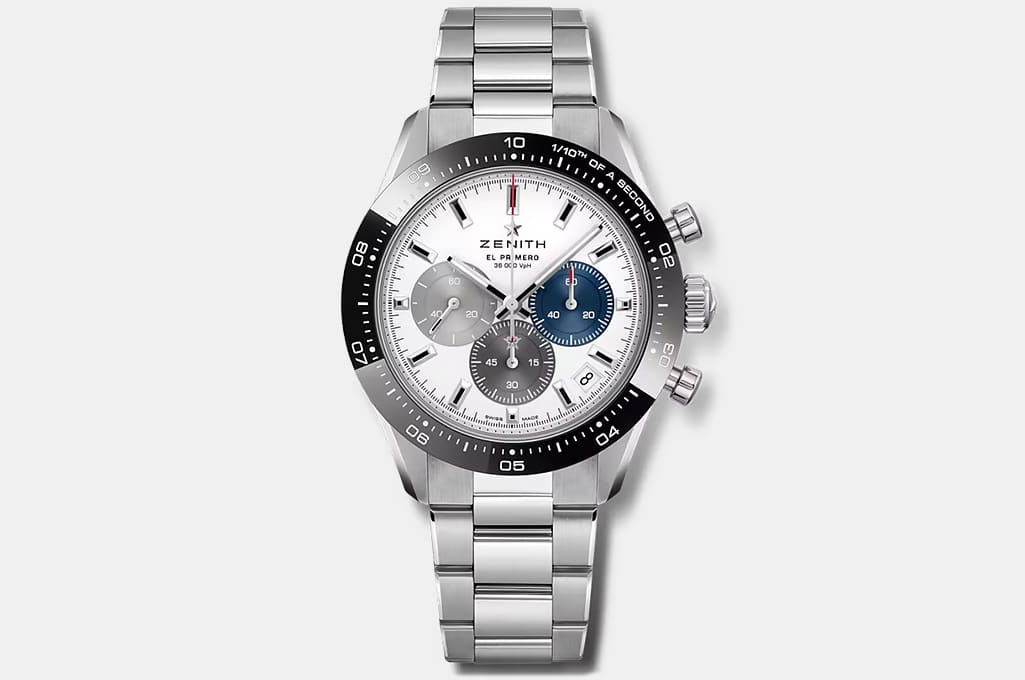 Zenith Chronomaster Sport
Equal in esteem to the Daytona, the Zenith Chronomaster Sport is a combination of best practices from the brand's past chronograph legends. It runs on a historical El Primero movement, which old Daytonas actually ran on before Rolex went fully in-house. With its tri-color face, each subdial as silky as the one next to it, pump style pushers, and forever-vibrant ceramic bezel, the Chronomaster Sport boasts a premium Swiss construction. Plus, with Rolex's history using the El Primero, some might even consider Zenith chronographs a Daytona predecessor.
Price: $11,000
Case Diameter: 41mm
Movement: Zenith El Primero
Crystal: Sapphire
Water Resistance: 100 Meters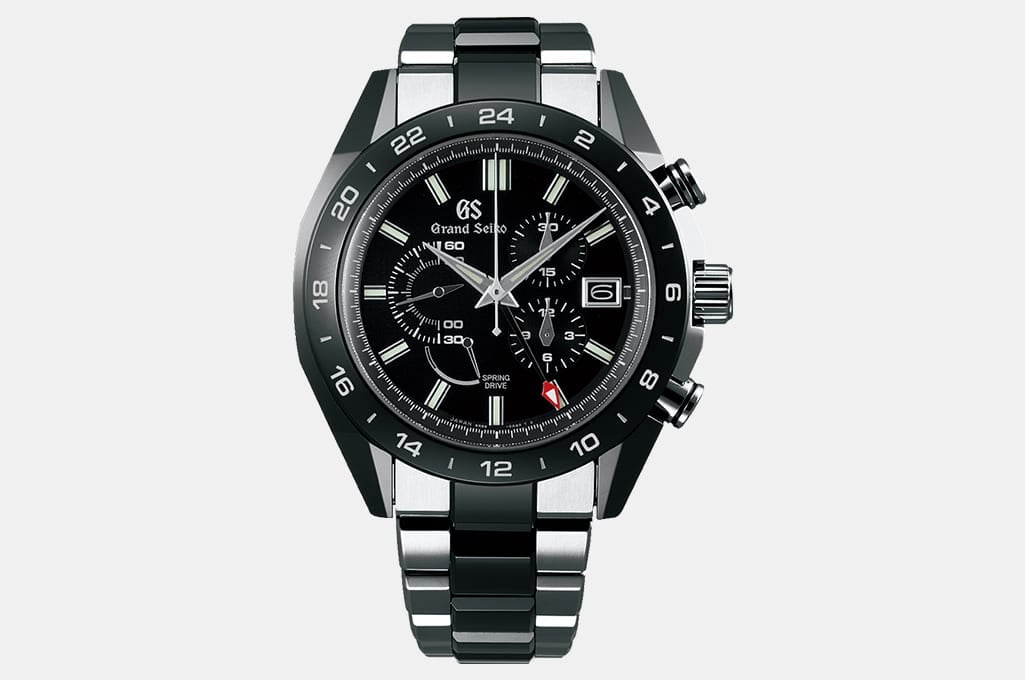 Grand Seiko SBGC223
The SBGC223 follows Grand Seiko's tradition of using a classic design template, then fully making it its own. The two-material construction, fade-proof ceramic and high-intensity titanium, starts at the case and moves into the bracelet for a truly unique aesthetic. This also makes it as strong as stainless steel but almost half as light. That one of the subdials is a half-racetrack is another noteworthy remix. Grand Seiko's Spring Drive movement is a horological innovation. It uses a mechanical mainspring for power, which means your wrist movement fuels it, but a high-precision spring drive too. This gives you the torque of a high-end automatic, with quartz accuracy. Did we mention the GMT hand?
Price: $14,800
Case Diameter: 46.4mm
Movement: Grand Seiko 9R86 Spring Drive
Crystal: Sapphire
Water Resistance: 100 Meters
Under $10,000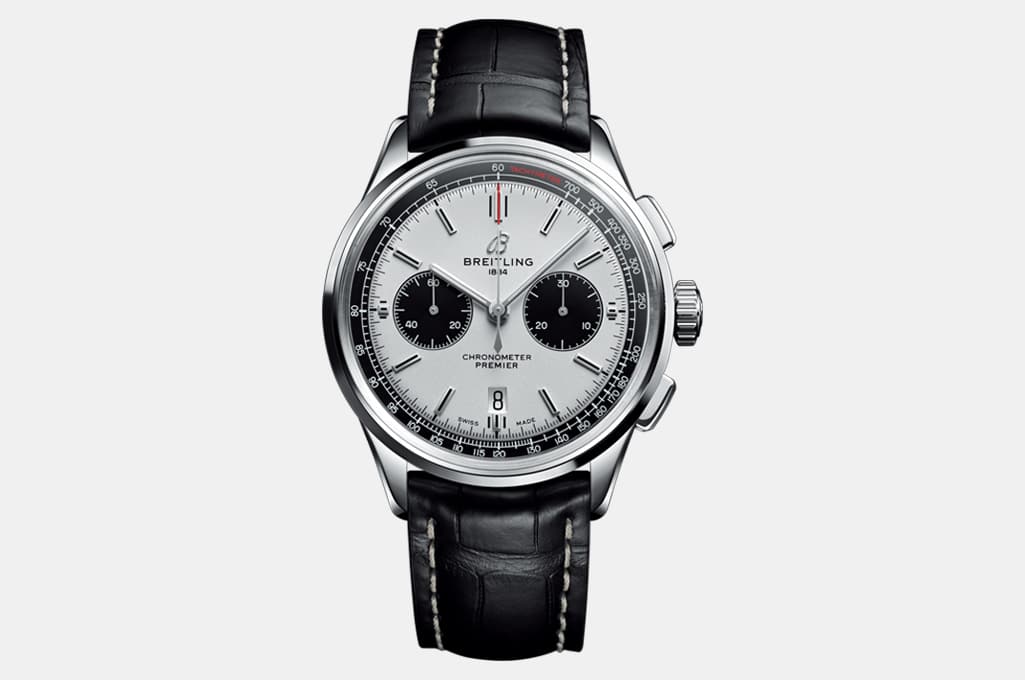 Breitling Premier B01 Chronograph
With its two-subdial design, thin baton indices, and close-to-body crown, the Breitling Premier B01 is an aesthetically leaner, cleaner chronograph. Still, it's as function-heavy as any Swiss hard-hitter, running on a COSC-certified Chronometer movement that can handle everything from shock to extreme temperatures. It's based on an original Willy Breitling design from the 1940s, so this versatile watch is also important to the brand. The slightly less busy look lends itself to different constructions and bracelets. You can get the case in stainless steel or red gold, and choose from different bracelets, including alligator or calfskin leather.
Price: $8,500
Case Diameter: 42mm
Movement: Breitling Caliber 01 Mechanical
Crystal: Sapphire
Water Resistance: 100 Meters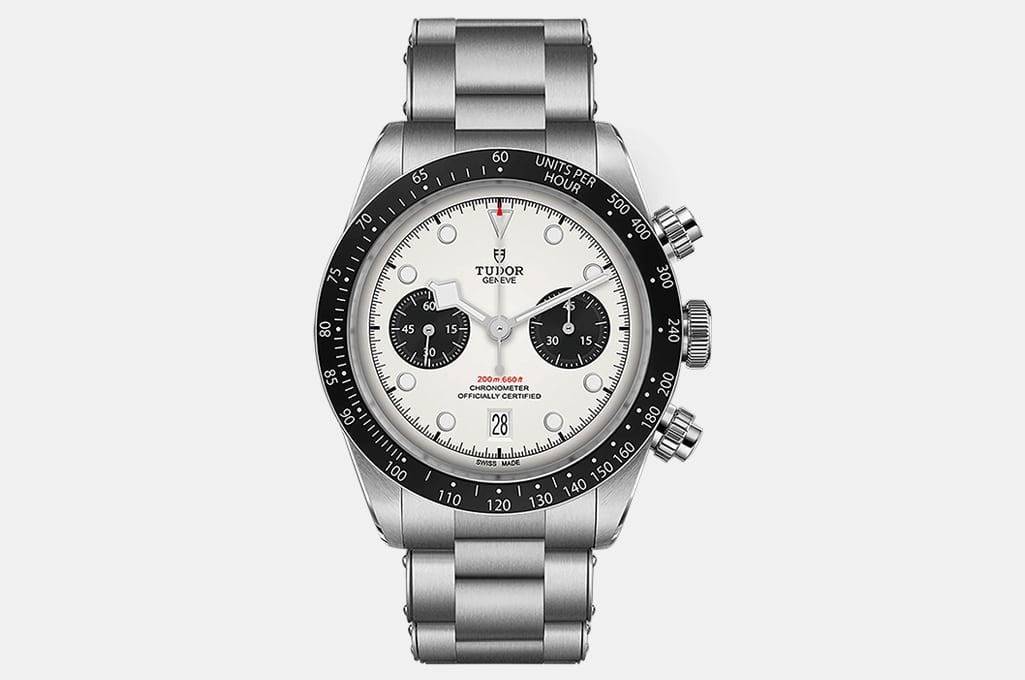 Tudor Black Bay Chrono
Rolex and Tudor being brothers, the Black Bay Chrono does exactly what an effective younger sibling does: He takes what he's learned from his kin, and dresses it up with Tudor-specific features, for a completely unique vibe. First of all, it comes in colorways reminiscent of the Daytona panda dial variation, which is even more elusive than the already-rare standard Daytona. From there, the round indices and signature Snowflake hands make the watch look more modern, and an unmistakable Tudor timepiece. Like the Daytona, it runs on a COSC-certified movement. It's more amphibious than its Rolex relative though, offering double the water resistance.
Price: $5,325
Case Diameter: 41mm
Movement: Tudor Calibre MT5813 (COSC)
Crystal: Sapphire
Water Resistance: 200 Meters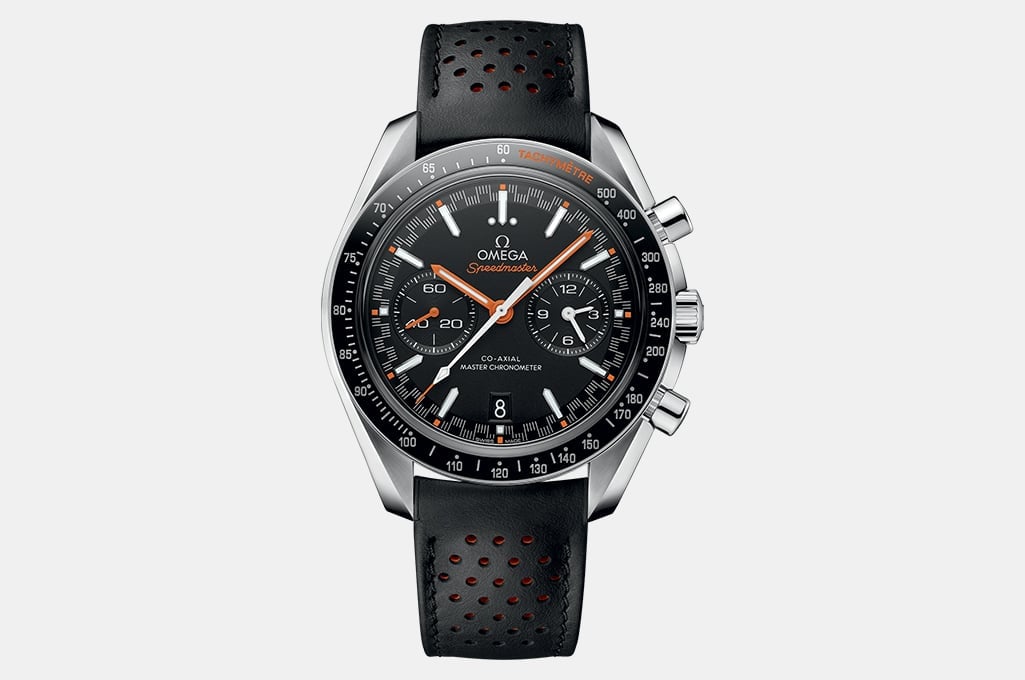 Omega Speedmaster Racing Co-Axial Chronograph
As a watch line, the Speedy leans hard into its moonwatch heritage, which is both right and well-deserved. Still, this often overshadows its autosports roots. This Omega Speedmaster Racing Chronograph goes back to its ancestry on the racetrack. The orange accents, expressed via the Tachymetre appellate, the interior of the perforated racer strap, and the varnished hands, make this guy pop more than the standard Speedmaster. Meanwhile, the 18k white gold indices, ceramic bezel ring, and overall Omega-level finishing combine upscale Swissness with unabashed gearhead aesthetics.
This timepiece has a transparent caseback, one thing that Omega does that Rolex doesn't, that endears it to the horologically curious. Here, you can admire that exquisite co-axial movement.
Price: $8,450
Case Diameter: 44.25mm
Movement: Omega Co-Axial Master Chronometer 9900
Crystal: Sapphire
Water Resistance: 50 Meters
Under $5,000
Hamilton Intra-Matic Auto Chrono
Hamilton's Intra-Matic Auto Chrono is a classic American design from a classic (formerly) American brand. Contrasting features throughout the watch make for a chronograph that's both '60s retro and timeless. The super simple round case has a vintage feel about it, but it's flanked by multi-surfaced lugs with sharp turns that give its profile visual intrigue. Also, the clean panda dial is made up of an unblemished face, complemented by wave-textured subdials. Ultimately, this Hamilton is eye-catching, but not loud. Let's not forget that Swiss automatic movement, with a 60-hour power reserve that's more than respectable for this price point.
Price: $2,195
Case Diameter: 40mm
Movement: Hamilton H-31 Automatic
Crystal: Sapphire
Water Resistance: 100 Meters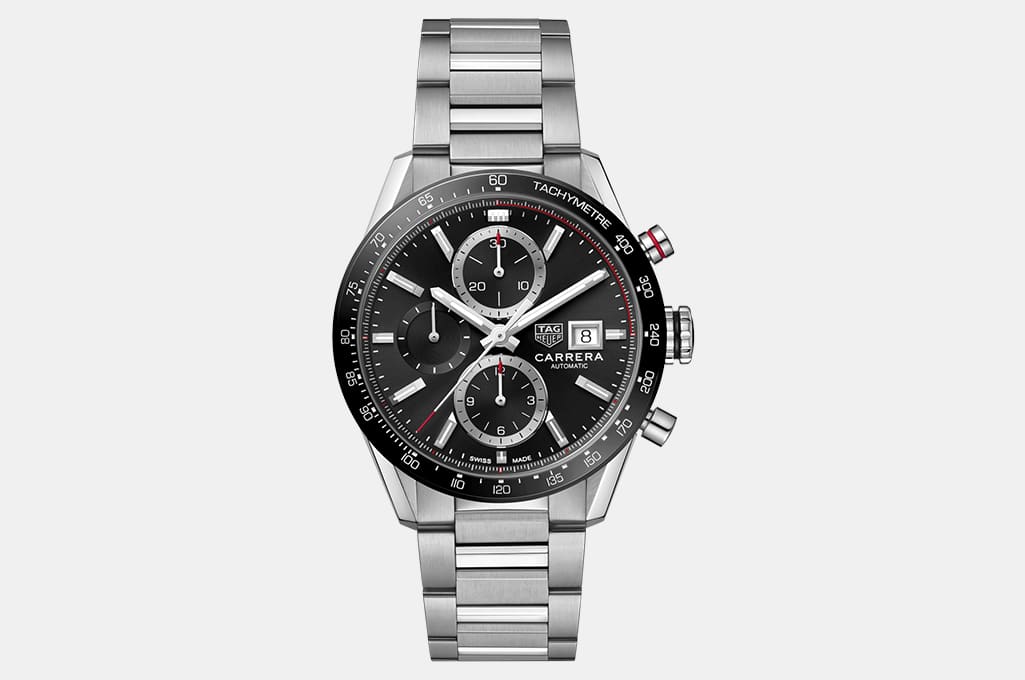 Tag Heuer Carrera Automatic Chronograph
The Tag Heuer Carrera is an automatic chronograph that takes sporty to the next level. We're talking diamond-sharp angles, levels of multi-dimensionality, and no surface left un-textured. If you're looking for a robust racing watch, this is your guy. The racetrack subdials recessed into the brushed dial creates legibility, despite the fast-looking watch face, as do the red accents. With its Super-LumiNova, ergonomic bracelet, and dependable timekeeping, this watch's hardcore sportiness is expressed in form and function, inside and out.
Price: $4,650
Case Diameter: 41mm
Movement: Tag Heuer Calibre 16 Automatic
Crystal: Sapphire
Water Resistance: 100 Meters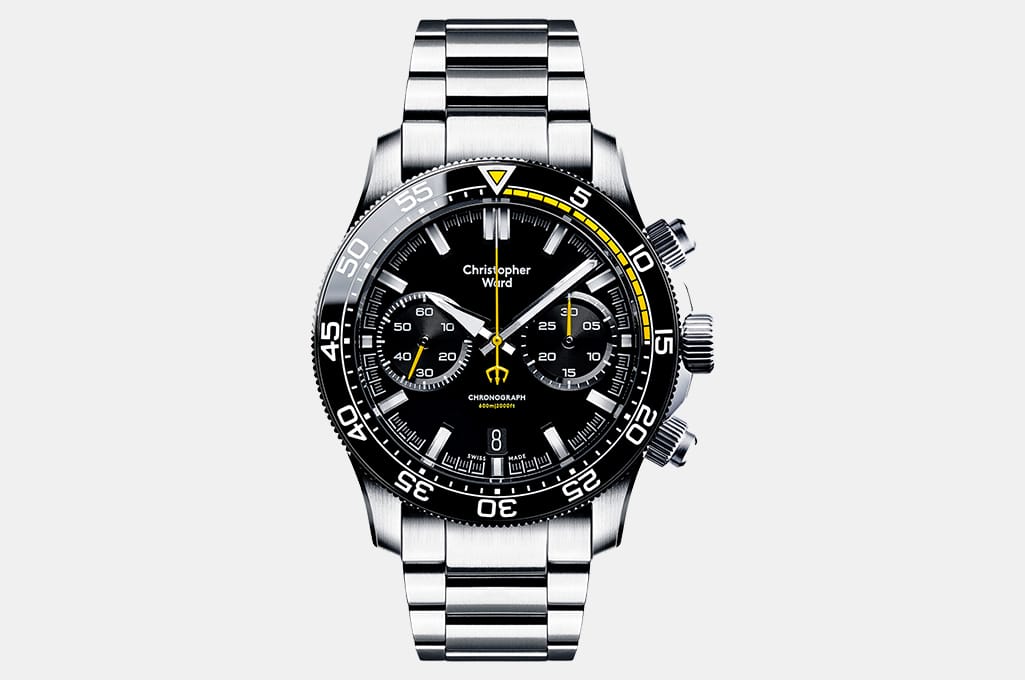 Christopher Ward C60 Chronograph
Leave it to bang-for-buck Christopher Ward to marry a dive watch with a chronograph, without compromising either side's functionalities. The C60 Chronograph has an easily-operated stopwatch, racetrack subdials, a unidirectional bezel (ceramic, of course), and a whole 600 meters of water resistance. Most high-end Swiss brands will make you fork over four to five times the price of the C60 for this. The yellow accents against the mostly black face give it a racer look. Of course, one of these accents is the second hand that sports the Christopher Ward trident.
Price: $1,740
Case Diameter: 42mm
Movement: Sellita SW510
Crystal: Sapphire
Water Resistance: 600 Meters
Under $1,000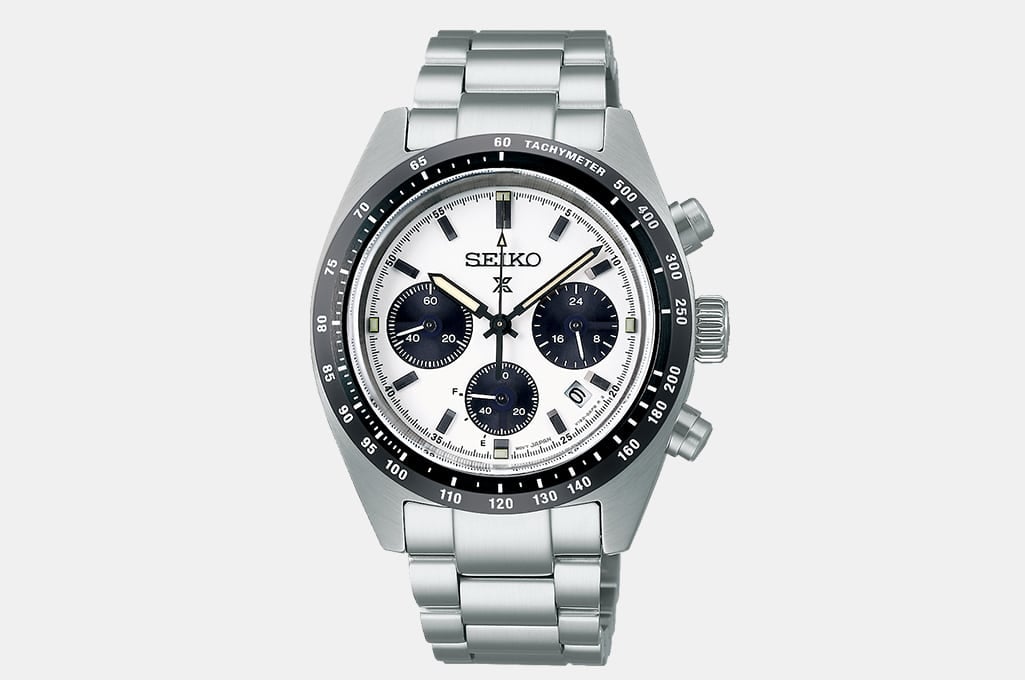 Seiko Prospex SSC813P1 Chronograph
Seiko's SSC813P1 from their ever-reliable Prospex line is an honest chronograph, reliable in its operations, design, and price. The movement is Seiko's in-house V192 caliber, which is an accurate solar-powered chrono quartz with a power reserve indicator. This watch has a slick, disciplined architecture which includes a convenient push-button release clasp and an overcharge prevention function. It's a stylish quintessential chronograph that's practical, boasting everything you need and nothing you don't.
Price: $890+
Case Diameter: 39mm
Movement: Seiko Caliber V192 Solar
Crystal: Sapphire
Water Resistance: 100 Meters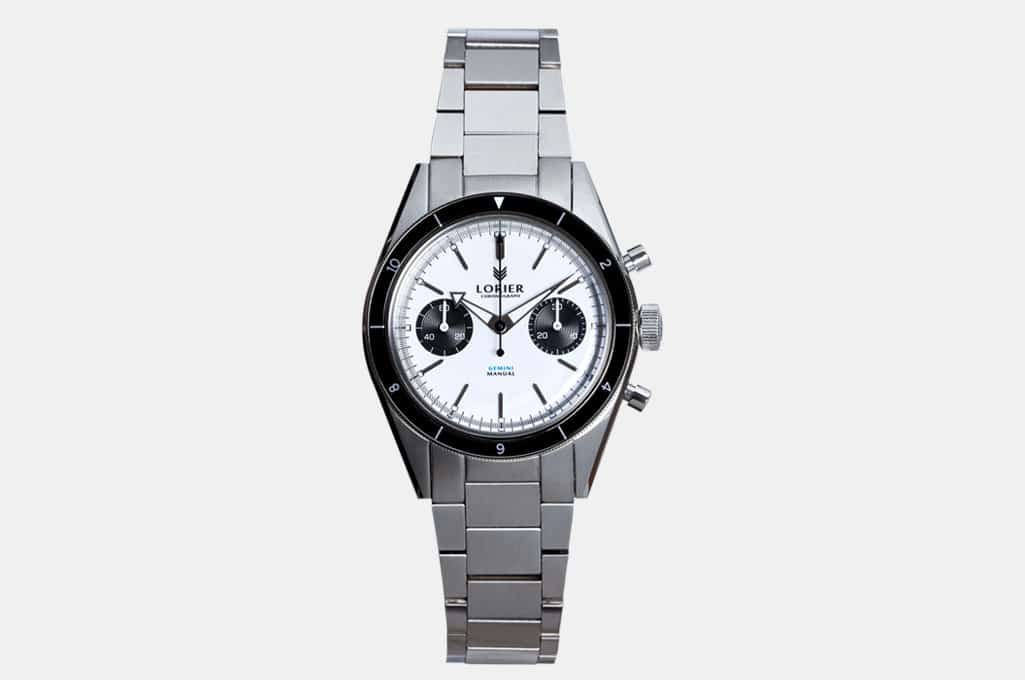 Lorier Gemini
Watch microbrand Lorier accomplishes the impossible by serving up a genuinely minimalist chronograph with the Gemini watch. The subdials are small and symmetrically placed, leaving a lot of unblemished negative space on the stark white dial. However, the considerable contrast, aided by the texturing in the subdials, ensures that the legibility isn't affected. Even the lugs are smooth, creating an almost uninterrupted silhouette. The mechanical, hand-winding movement provides a physical and hands-on experience when operating the watch. So while the Gemini is modern and clean-looking, wearing it doesn't feel sterile or lifeless.
Price: $499
Case Diameter: 39mm
Movement: Seagull ST19 mechanical
Crystal: Hesalite
Water Resistance: 50 Meters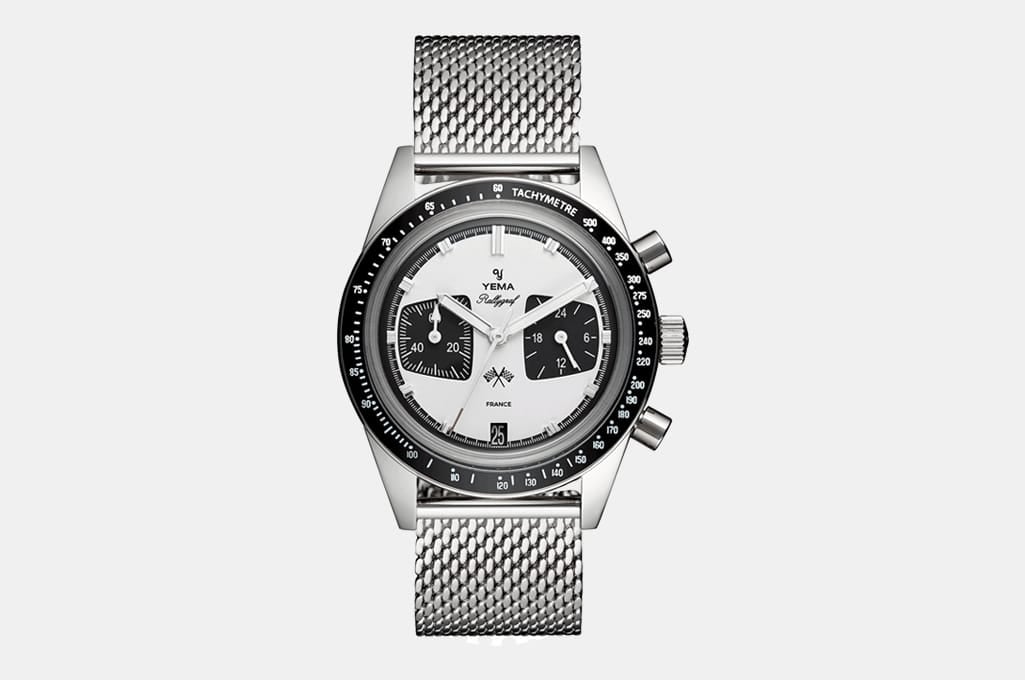 Yema Rallygraf Panda
Of all the mecaquartz timepieces in the watch world, the Yema Rallygraf Panda is definitely one of top timepieces in the pecking order. And why not? Its smooth-edged trapezoidal subdials look like psychedelic squares. The rally flags are a fun and recognizable icon that hat-tips the sport of racing. And the soldered bars between the lugs give it a solid look, not to mention how easy they make it to go from the lightplay-heavy steel mesh bracelet to the rugged calfskin.
Functionally, the Seiko hybrid mechanical quartz maximizes efficiency and cost, with minimal compromise on horological coolness. It's a chronograph movement that uses quartz technology for the timekeeping, but a mechanical operator for the stopwatch, so you don't lose out on the tactility we all love about chronographs.
Price: $349
Case Diameter: 39mm
Movement: Seiko VK64 Mechanical-Quartz Hybrid
Crystal: Mineral
Water Resistance: 100 Meters
Under $300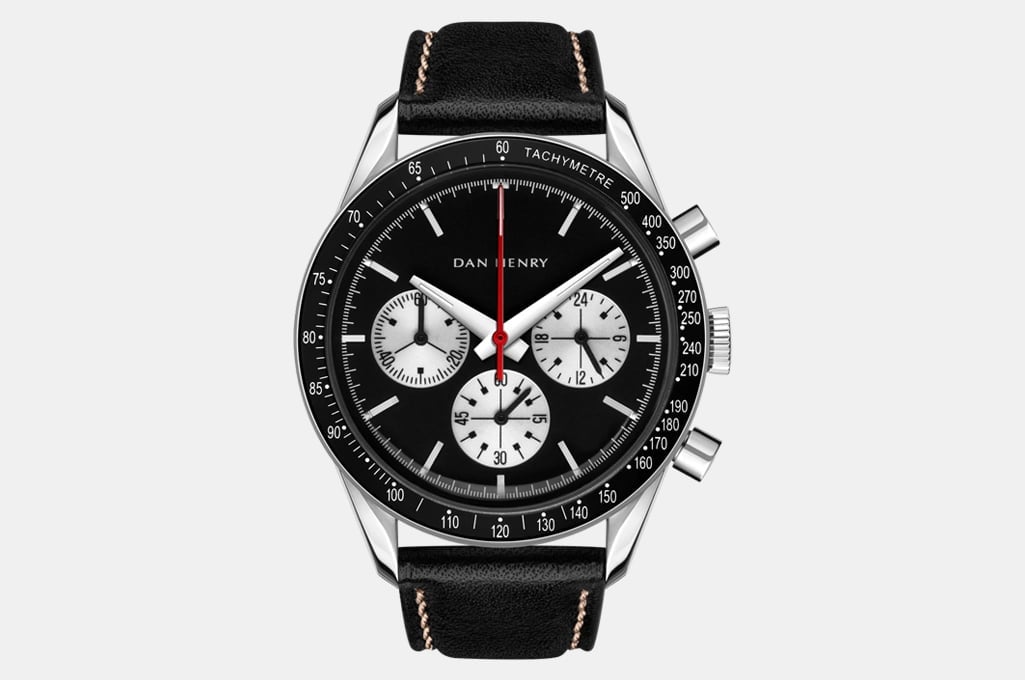 Dan Henry 1962 Racing Chronograph $270
If you're looking for color options, Dan Henry's 1962 Racing Chronograph offers several colorways between its four dial designs and straps in 18 different shades. You can choose between the contemporary-styled Panda dial, and its color-reverse, Evil Panda. Then there's the professional-looking blue dial with playful pops of orange, and the antiquey gold variation. The screw-down caseback with a 3D embossed Maserati is also a nice touch. Looks aside, this budget chronograph runs on a smooth-motion mecaquartz movement with instant reset.
Price: $270
Case Diameter: 39mm
Movement: Seiko Caliber VK63 Hybrid Mechanical-Quartz
Crystal: Mineral
Water Resistance: 50 Meters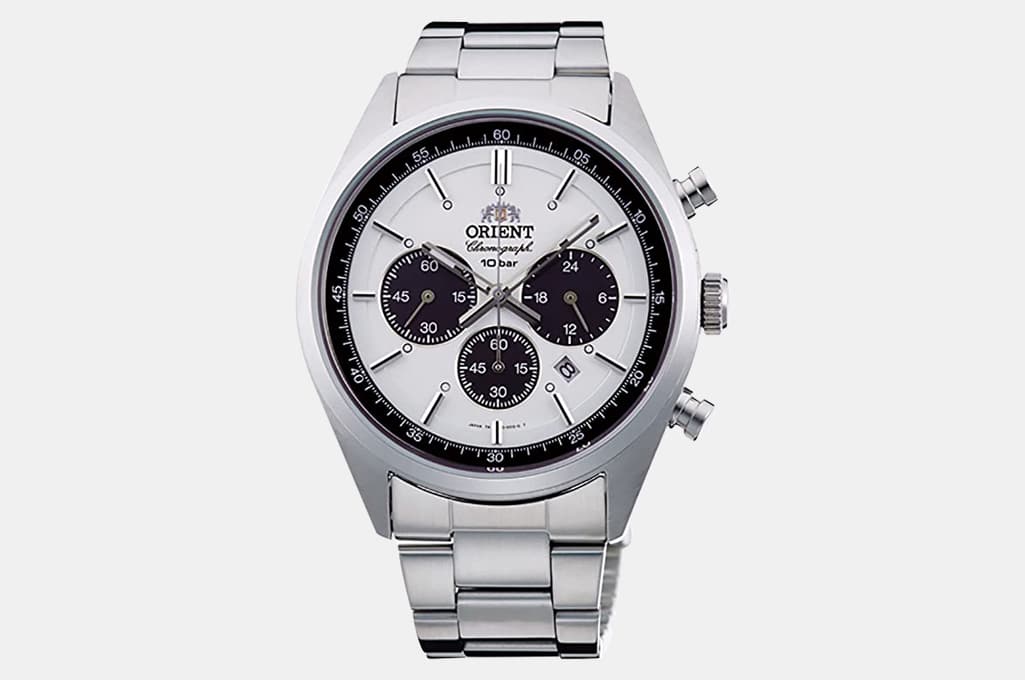 Orient WV0041TX Chronograph
The sporty but elegant Orient WV0041TX Chronograph offers a retro look in a modern size and construction. The dial has a lot of depth and sectioning which gives the watch a level of complexity. For example, the outer edge of the dial is a black chapter ring that's angled, so it slides into the main part of the dial. Then, the flawless high-polish indices travel over both sections of the stepped dial, further highlighting the dimensionality of the watch. The subdials have a beautiful sheerness to them so that light can get into the solar-powered movement. Conveniently, this also means that you'll never have to replace the battery.
Price: $285
Case Diameter: 42mm
Movement: KSB00 Solar Quartz
Crystal: Mineral
Water Resistance: 100 Meters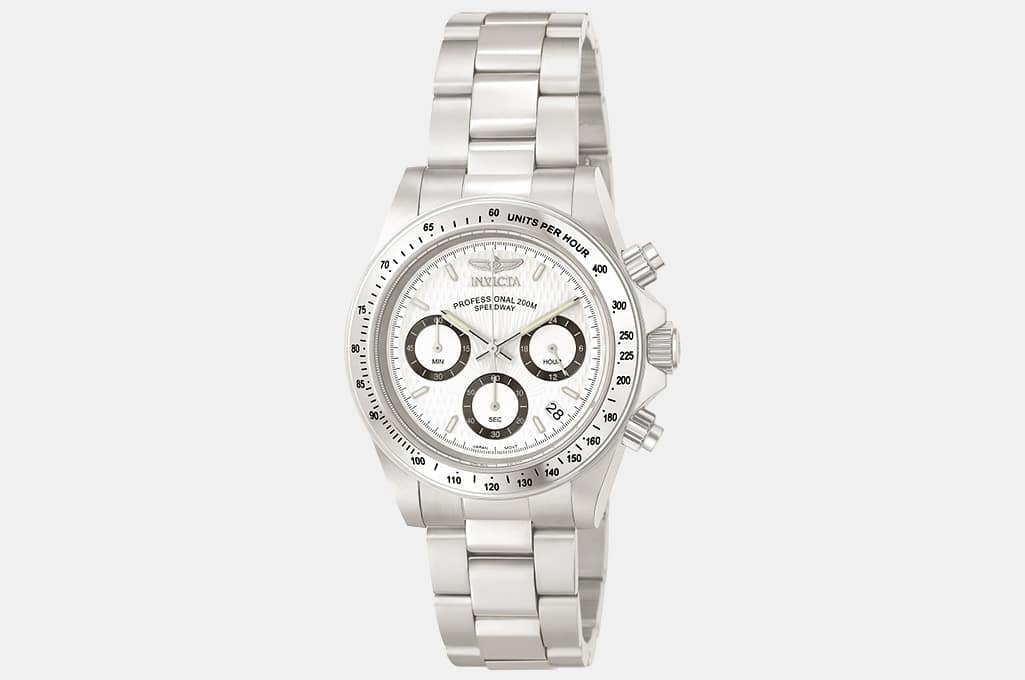 Invicta Speedway Chronograph 9211
Even in the quartz world, you won't find a lower priced chronograph that offers the level of functionality that the Invicta Speedway 9211 does. You've got the stopwatch hand on the main axle, making the tachymeter and stopwatch easy to use. There's also the grippy screw-down crown and the 200m of water resistance that beats a lot of watches literally a hundred times its price. And of course you've got that arctic aesthetic, with the snowy dial and silver tones throughout. Moreover, the case is a reasonable diameter that suits most, if not all, wrist sizes.
Price: $70+
Case Diameter: 39.5mm
Movement: Quartz
Crystal: Mineral
Water Resistance: 200 Meters
Disclosure: Clicking on these links and making a purchase may earn us a small referral fee, at no extra cost to you. Learn more here.