Congratulations: You've made it. Another week of Mondays through Fridays is over.
And do you know what that means? It's probably about time for a drink.
In this edition of What to Drink This Weekend, I'll be sharing one of my favorite value-priced bourbons, as well as three different ways to drink it: As a sipping spirit with the right glass, or in two different cocktails that are great for sharing with friends.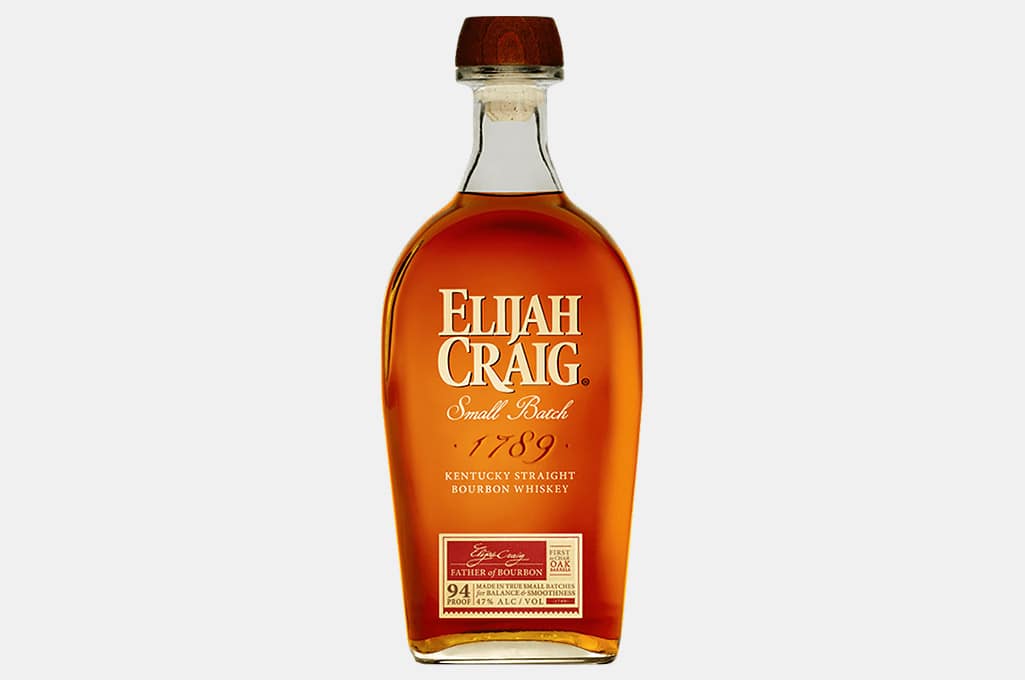 First: The Whiskey
Bardstown, Kentucky is home to a population of around 12,000 people. Its sweltering summers and mild winters give plenty of reason to drink—and maybe that's why it's traditionally been a major producer of Kentucky Bourbon Whiskey.
Elijah Craig is one of the longest-running of the Bardstown whiskeys, and it has an impressive pedigree. In fact, anyone who enjoys a sip of American whiskey now and again owes a lot to the historical Elijah Craig. Often called "the Father of Bourbon", he was the first person to heavily char his oak barrels, giving bourbon its distinctive sweet and spicy character.
In the present day, Elijah Craig's Small Batch Bourbon Whiskey is still one of my all-time favorite American spirits. At around $35 a bottle, it offers an incredible range of flavors backed up by 94 proof: Complex, smooth, warm, woody, spicy, and barbecue smoky notes all come out at different times while drinking.
And while sipping Elijah Craig neat or on the rocks is a genuine pleasure, it's also an immensely accessible cocktail whiskey. Let's dig in deeper on that in a moment, after we cover the right glasses that will help you get the most out of this bottle of spirits.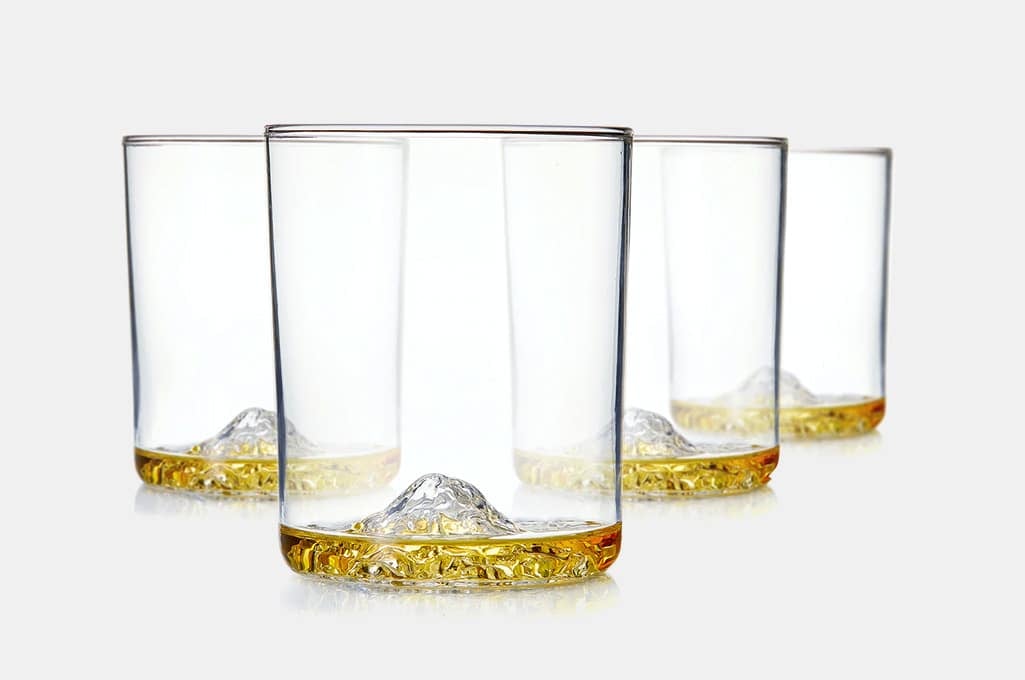 Next: The Glasses
Not just any old glass will do, if you want to enjoy the contemplative pleasures of a fine whiskey. Thankfully, Whiskey Peaks' decorative whiskey glasses are just as fine as the spirits you can pour into them.
Made from lead-free hand blown glass, each Whiskey Peaks glass is a unique tribute to high class spirits and the spirit of adventure. For this weekend, I've chosen The Grand Canyon glasses—a perfect way to marry America's original spirit (bourbon) with an immediately recognizable piece of American landscape beauty.
At the time of writing, we're in the midst of Bourbon Month as well. So if you have a large enough order with Huckberry, you can get a sweet discount on any Whiskey Peaks glasses as well.
But after you've sat and ruminated with a glass of Elijah Craig in hand, you may end up craving something a little bit different. That's where cocktails come in.
Old Fashioned
First, the Whiskey Peaks glasses are also excellent vessels for making Old Fashioneds. I've written an In-Depth Guide to the Old Fashioned that you may want to check out, but in summary: Whiskey. Sugar. Water. Bitters. Stir with ice, and garnish with an orange twist.
2 ounces of bourbon or rye whiskey
2 bar spoons of simple syrup
3 dashes of Angostura bitters
Garnish with an expressed orange twist
After that, consider another modern classic cocktail favorite: The Kentucky Mule.
Kentucky Mule
A combination of whiskey and ginger beer with a dash of lime, the Kentucky Mule is a southern-fried variation of the more well-known Moscow Mule (with vodka). The real trick here is using a traditional copper mug, like this one from our friends at Bespoke Post: Hammered Copper Moscow Mule Mug
Simply fill the mug with ice, add a healthy splash of Elijah Craig, and top with a spicy ginger beer like Fever Tree. A squeeze of lime is nice, but not absolutely necessary. This is a cocktail that I love sharing with people at impromptu get-togethers, as it's both easy to make and looks impressive.
1.5 oz. Bourbon
0.5 oz. fresh lime juice
1 pour of ginger beer
1 lime wedge
Then: The Bitters
If you're really looking to flex your cocktail muscles though, bitters are the way to go.
Simply put: Bitters don't make your drink bitter—they make it interesting, by adding an intense dash of concentrated flavor.
Angostura's aromatic bitters and orange bitters are the classic options here, but there's a whole range of more small batch and craft bitters made in America to choose from.
I had the chance to try Honest John's Bitter Sampler Set recently, and was really quite impressed with both the quality and range of flavors presented there.
The aromatic bitters are a classic addition to an Old Fashioned, as are the orange bitters. But both the black walnut and chocolate bitters are a match made in heaven for Elijah Craig whiskey, and the coffee + cherry bitters are intriguing as well.
In short: This is a really quick way to build up a "cocktail spice rack", so you'll never get bored with the classic cocktails you're mixing and drinking.
Now with all of those things at hand, what's the natural next step? Mixing and matching your flavors, of course.
Each of those bottles of bitters can also do a fantastic job of livening up a Kentucky Mule. The grapefruit bitters are a particular hit as far as I'm concerned, as are the lemongrass and cardamom.
Last: Enjoy
And that's the magic of cocktails and good spirits: With just a handful of ingredients, you can open up a giant range of drink variations to make. That's good enough to keep you drinking all weekend long, and perhaps next weekend too. Thanks for reading.
Disclosure: Clicking on these links and making a purchase may earn us a small referral fee, at no extra cost to you. Learn more here.