Features
How Peyton Reed's Fantastic Four Movie Became Ant-Man and the Wasp: Quantumania
Exclusive: Some of the DNA of Peyton Reed's abandoned Fantastic Four film found its way into his Ant-Man trilogy.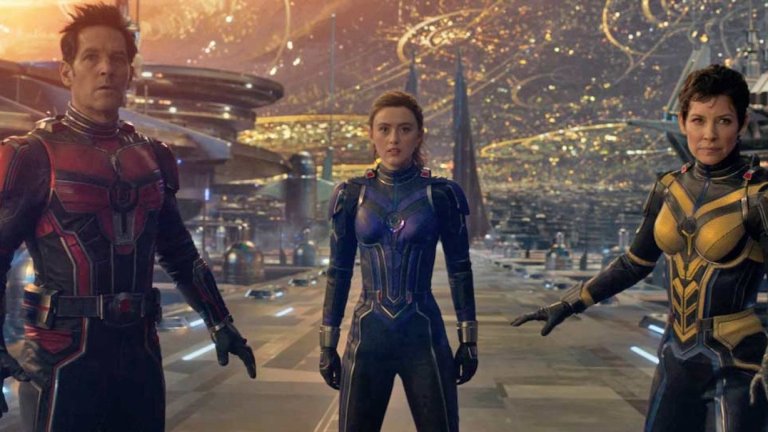 When watching Ant-Man and the Wasp: Quantumania, one notices two things immediately: first, the movie leaves behind San Francisco, the setting of the earlier Ant-Man adventures, pretty quickly for an extended voyage into the mysteries and wonders of the Quantum Realm; and second, the main cast of characters—Scott Lang / Ant-Man (Paul Rudd), Hope Van Dyne / the Wasp (Evangeline Lilly), Hank Pym (Michael Douglas), Janet Van Dyne (Michelle Pfeiffer), and Cassie Lang (Kathryn Newton)—have solidified into nothing less than a genuine family of superheroes. Even so, they're not Marvel's First Family.
That honor, of course, goes to the Fantastic Four, who have been billed as such going back to the 1960s. And while we're still two years away from their official launch in the MCU, some aspects of the Four, such as the bickering family unit and the adventures in psychedelic cosmic realms, have found their way into the Ant-Man movies, especially Quantumania. That shouldn't come as much of a surprise though. Ant-Man trilogy director Peyton Reed was actually developing a Fantastic Four movie for 20th Century Fox years before the MCU came into existence and even longer before Marvel Studios' parent company, Disney, bought Fox and took back the rights to the Four. Speaking with Den of Geek during the press day for Quantumania, Reed says that there's no question some of his ideas for Fantastic Four have found their way into his Ant-Man movies.
"I developed Fantastic Four back in, I think, 2002 or 2003 for about a year, long before the MCU," Reed explains. "And absolutely I poured that into these movies, particularly into Quantumania. I grew up loving Fantastic Four, and then I found myself directing the Ant-Man family, and there are similarities. They are kind of a dysfunctional family of superheroes in the Marvel Universe. And, you know, in Fantastic Four, they would go into the Negative Zone, and here it's the Quantum Realm."
Reed's abandoned Fantastic Four movie would have been set in the 1960s and followed the team during their day-to-day lives, but his vision was nixed by then-Fox head Tom Rothman in favor of a more traditional origin story set in the present day. Eventually directed by Tim Story, Fantastic Four was released in 2005 to mediocre reviews but solid box office. It was followed by Fantastic Four: Rise of the Silver Surfer in 2007 and a disastrous reboot in 2015 before Marvel got the rights back.
While Matt Shakman (WandaVision) has been tapped to direct the MCU's new version of the Fantastic Four's story, Reed says that his work on the Ant-Man movies has largely fulfilled his vision for his long-ago iteration of the First Family.
"I really did scratch that itch with these [Ant-Man] movies," says Reed. "With this movie, in particular, it gave me a chance to sort of embrace what would have been called the more cosmic side of the Marvel Comics universe. The Quantum Realm really sort of, for me, represents reading those comics as a kid and bringing it into the Ant-Man world."
Quantumania producer Stephen Broussard agrees that the development of the family vibe in the Ant-Man movies could provide a sort of roadmap for the MCU's version of the Four. "I think they'll have to be mindful of everything we've done," Broussard says. "I'd like to think that [Reed] kind of poured everything he liked about [the Fantastic Four] into this. This became his family Marvel superhero story, and that's no secret. It's absolutely there."
Broussard adds that the same dynamic that made the Fantastic Four so beloved for Marvel fans can also be found in the MCU's version of the Ant-Man family. "What's so relatable about that, I think, is that it's dysfunctional, right?" he says. "No family is perfect. We all have our own issues that we're working through with our family and we still love each other. I think that kind of runs through all these movies, whether you're in San Francisco or whether you're in the Quantum Realm."
Ant-Man and the Wasp: Quantumania arrives in theaters on Friday, Feb. 17.