Features
The Banshees of Inisherin Defies Hollywood's Fairytale Ireland
Martin McDonagh's The Banshees of Inisherin is one of the most nominated and beloved films of the Oscars season, but is it too subversive and Irish for Academy tastes?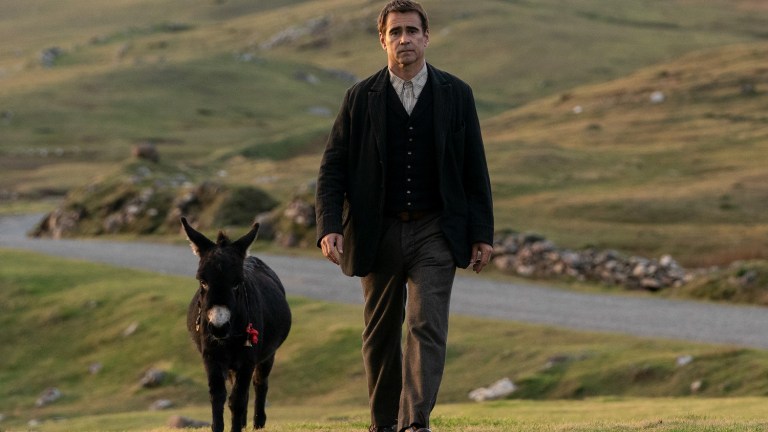 This article contains The Banshees of Inisherin spoilers.
John Ford was not from Ireland… but the legendary American filmmaker might've wished he was. Born by the name John Martin Feeney in 1894, Ford would go on to carve one of the most influential directing careers in Hollywood's early history. He would also later tell the press that his given name was Seán Aloysius O'Feeny. The reason for the embellishment? Because he was raised by two Irish immigrants who mythologized the homeland for their son, particularly his mother who was born on the island of Inishmore, off the coast of County Galway.
More than a century after Ford heard those tales about the old country, the filmmaker's shadow looms surprisingly large over this year's Oscar season. This is partially because Ford himself is mythologized by another American director who is now reimagining his youth via Steven Spielberg's The Fabelmans. But it's also felt because one of Ford's most beloved movies—and certainly his most tender—is a clear influence on an actual British-Irish filmmaker's work: Martin McDonagh's The Banshees of Inisherin. In fact, McDonagh goes so far as to eagerly subvert, and lovingly take the piss out of, The Quiet Man (1952), which was Ford's storybook vision of Ireland. It also won Ford a Best Director Oscar and was likewise nominated for Best Picture.
If you haven't seen it, The Quiet Man stars John Wayne as a disgraced Pittsburgh boxer who, like Ford, grew up at the turn of the century. Yet unlike the real-life director, Wayne's fictional Sean Thornton eschews the fame and fortune of American luxury in the 1920s. Instead he moves back to his mother's home country in the fictional community of Inisfree, an idyllic village of thatched roof cottages, horse-drawn carts, and lively conversation every afternoon at the pub. There Sean finds peace and reclamation by loving the slightly "older" (by Hollywood standards) sister of the pub's big mouth, and getting into a right, proper donnybrook that makes him only closer pals with his foe.
It's all so beatific, right down to the Catholics priest and Anglican minister working in cahoots as matchmakers, that you never would've fancied the actual Ireland of the 1920s was in its second consecutive decade of major political upheaval, bloodshed, and war. Indeed, the Irish Civil War was fought between 1922 and 1923.
The Banshees of Inisherin does not forget that context. Rather, it revels in it by staging an existential tragicomic parable about the war and perhaps Ireland itself on the fictional island of Inisherin—which just so happened to be created by filming on the actual island of Inishmore, the idealized home of Ford's mother.
On Inisherin, we once again have a film set within a picturesque community of thatched roofs and horse drawn carriages. McDonagh even heightens the postcard quality with breathtaking vistas overlooking the Atlantic Ocean. Yet there's something immediately off about it. For instance, The Banshees' protagonists Pádraic Súlleabháin (Colin Farrell) and Colm Doherty (Brendan Gleeson) see that windswept view of the sea every time they grab a pint… but they rarely ever look out on it. Their backs are to green and blue, and they're more oft than not inclined to brood into their bitters than even look up into the other's eyeline, never mind the coast.
Like Ford, McDonagh was not born in Ireland; he grew up in London as the son of Irish immigrants, with his father being the one who was raised in Galway. However, McDonagh is the one who actually moved back, returning to Galway in his 30s as opposed to dreaming about doing so into his tender old age. And by setting The Banshees of Inisherin in roughly the same era as The Quiet Man, McDonagh is offering an authentic counterpoint to wistful American fairy tales.
Banshees' Pádraic was born and raised all his life on Inisherin, and is so isolated on the island that even the Civil War occurring on the mainland almost seems like an abstraction. In the distance and across the water, he and Colm can see the smoke rising and hear the cannons roar. Yet it might as well be occurring on the other side of the planet. Pádraic is elsewhile content to mind his business at the pub and at the cottage, which looks almost as cozy from afar as the one Sean inherits in The Quiet Man, if not for the fact that Pádraic is so lonely he lets his miniature donkey walk inside the home, much to the chagrin of his adult sister Siobhán (Kerry Condon), who also lives with him.
The Banshees of Inisherin is a fable with a lot on its mind, including a contemplation of the futility of existence. That's what gnaws at Colm, who begins the movie by abruptly announcing he does not want to be Pádraic's friend any longer. In his advancing years, Colm has decided that to quell his recurring bouts of melancholy he'll find purpose in life by writing music and distancing himself from the happy-go-lucky layabouts Ford just happened to populate Ireland with in his own movie during this period.
McDonagh is obviously wrestling with the recurring theme of justifying existence through artistic achievement or some type of moral code, a theme that's recurred in his own work on the stage and screen, be it The Pillow Man or In Bruges. But he's also creating a seemingly farcical premise to grapple with the Irish character during times of extreme strife. In Banshees, this comes in the absurd ultimatum Colm delivers to Pádraic: Leave me alone or I'll start cutting off my fingers, one by one!
As a metaphor though, it's not too subtly removed from the fact that in the early 1920s, many Irishmen who once considered themselves to be friends were now killing each other on the mainland. The causes and grievances which triggered that war are too trenchant to fully explore here, but suffice it to say that only a handful of months after the Irish Republican Army successfully fought a War of Independence from the United Kingdom, many of the same soldiers found themselves shooting at their former comrades due to acrimony over accepting the Anglo-Irish Treaty, which among other things only would recognize Irish independence as long as the Republic of Ireland remained a free state under British dominion (in other words, the British king would still be their head of state).
At the end of the day, friends with more in common than they had apart were willing to bring violence to bear. Some might say it was cutting off your nose to spite your face. Or cutting off your thumb to torment your best mate.
So it is in The Banshees of Inisherin that despite being surrounded by the rural, majestic beauty that cinema tends to mythologize, blokes like Pádraic and Colm are completely consumed by their perceived troubles and slights. They make a hell out of their supposed heaven, because there is something sorrowful or self-destructive in their temperaments, which eventually refuse to accept any semblance of happiness, whether that's by having a drink with your buddy or, later in the movie, by accepting sound advice to not be such a raging, miserable bastard.
The sage advice is personified by Condon's Siobhán, the seemingly only literate woman on Inisherin, and certainly the only person with a serious intellectual curiosity. Unlike Gleeson's Colm, she actually knows what century Mozart lived and died in, and is clear-headed enough to see that "you're all fucking boring!" when Colm laments to her the dullness of her brother.
In the end, Siobhán does what many Irish men and women have done through the ages, including both Ford and McDonagh's parents: She leaves. She also begs Pádraic to come with her. When the movie begins, Farrell's relatively innocent animal-lover is a genuinely kind person who does not care about the larger existential questions that keep Colm awake. But after Colm brings Pád down to his level of misery, the brother feels obligated to refuse his sister. He'd rather nurse his resentment for Colm until it blossoms into an eternal hatred rather than even attempt happiness. In fact, he finds something resembling contentment by the final scene, agreeing that his feud with Colm is going to follow them to their graves, even as they share responsibilities of watching Colm's dog.
It's a bitter metaphor for Ireland, and the antithesis of the version which won Ford an Oscar. This goes right down to that 1952 movie's pivotal plot point about a virile man falling in love with a woman who is deemed slightly beyond the conventional age for marriage. Conversely, Pádraic and Colm are too enmeshed in their burgeoning feud to recognize that poor Dominic Kearney (Barry Keoghan) is probably the only person on the island to have reason for true despair. He is abused, possibly sexually, by his father every night. And when Dominic proposes marriage to Siobhán, it's not a grand romantic gesture, but the desperate last attempt for escape. She is forced to gently let him down, realizing that this dense young man is also severely lonely and traumatized. She's the first person to see the banshees are coming for him. Meanwhile Pádraic is too vengeful against Colm to even realize his other semi-friend has killed himself by movie's end.
It's a remarkably black comedy that ultimately leans closer to the tragedy of Chekhov or Beckett. It also has the ring of authenticity.
Will the Academy enthusiastically embrace that degree of bleakness? Technically, The Banshees of Inisherin is one of the perceived Best Picture frontrunners at the Oscars, with a total number nine nominations, including Best Director, Best Original Screenplay, Best Actor (Farrell), Best Supporting Actress (Condon), and two nominations for Best Supporting Actor (Gleeson, Keoghan). And after winning the Best Motion Picture – Comedy/Musical award at the Golden Globes, some perceive it to be the one to beat. It's certainly a more conventionally dramatic work than Everything Everywhere All at Once, and more of an actor's showcase than The Fabelmans (with actors making up the largest voting bloc of the Academy of Motion Picture Arts and Sciences).
Even so, whether it's 1952 or 2022, the Academy tends to favor life-affirming stories over grim or ambiguous portraits of the abyss. To this day, they still give Best Picture to the feel-good CODA over the far more nihilistic The Power of the Dog, and Green Book over Roma or The Favourite.
Despite being separated by 70 years, The Banshees of Inisherin is an answer to the Oscar-winning The Quiet Man. An Irish response to an American fantasy. Reality versus legend. But as another Ford film famously surmised, "When the legend becomes fact, print the legend." The Academy definitely prefers rewarding it.
The Banshees of Inisherin is streaming now on HBO Max.