Features
Oscars 2023: Where to Stream the Best Picture Nominees
The Academy Awards nominations are in, and with them we have a whole new crop of Best Picture nominees for you to catch up on ahead of the Oscars 2023!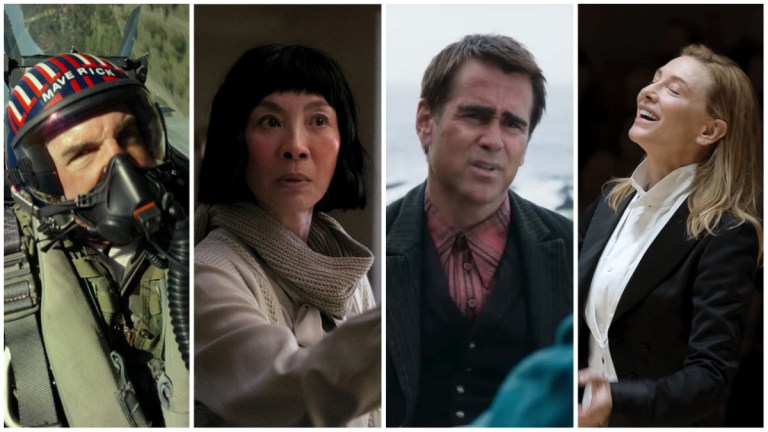 The ballots are in—or at least the nominations! And with them, we now have a pretty clear idea of what the Academy of Motion Picture Arts and Sciences deems to be the best films of 2022. The enviable Oscars short list for Best Picture this year went much as how we predicted at the start of the month—with our top seven "Best Picture frontrunners" all making the cut. Nonetheless, as with 2022 before it, this year marks a surprisingly competitive Best Picture race.
After The Fabelmans, The Banshees of Inisherin, and Everything Everywhere All at Once were all deemed to be the "Best Picture" two weeks ago by the Golden Globes and Critics Choice Awards, respectively, those three films have taken on the aura of true frontrunner status. However, one probably shouldn't entirely discount a bonafide crowdpleaser for all age groups like Top Gun: Maverick. Additionally, the Academy made some surprises this morning when they included Triangle of Sadness and All Quiet on the Western Front among the Best Picture nominees.
All that being said, if you haven't been breathlessly anticipating awards season all year on Film Twitter like a tiny fraction of moviegoers out there, then there's a good chance you haven't seen all or even most of the above mentioned movies, or perhaps any of the others. So if you're looking to get caught up ahead of the Oscars 2023 telecast in March, we've got you covered. Below is a complete streaming guide to the Best Picture nominees currently available.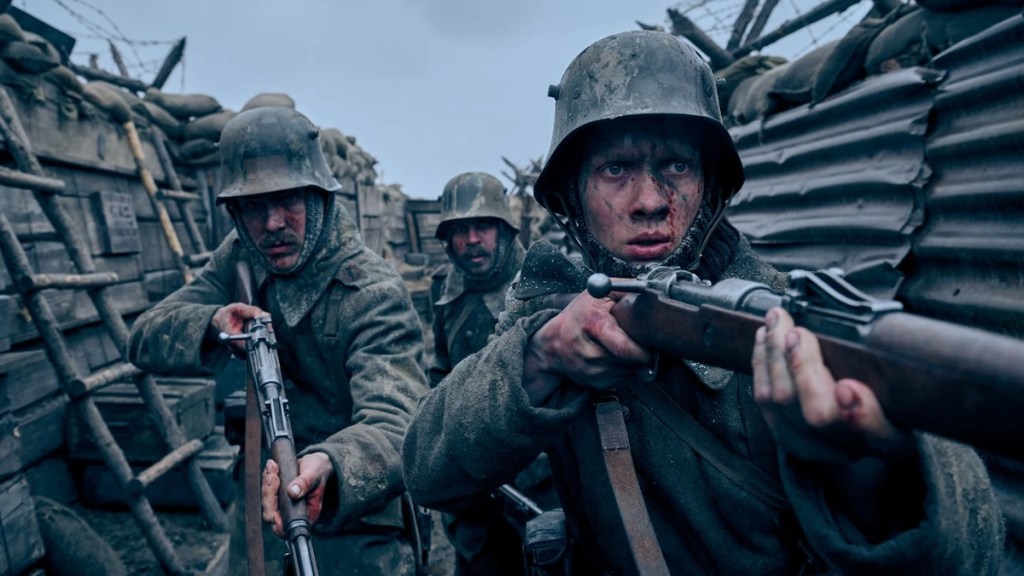 All Quiet on the Western Front
It would seem the Academy has gotten over its fear of subtitles after making history by awarding Parasite Best Picture in 2020. Now the Best Picture category is stock full of films in another language, including Edward Berger's technically dazzling, and emotionally heartbreaking, adaptation of the Erich Maria Remarque classic, All Quiet on the Western Front. Set in the hell that was the First World War, and here as told from the German perspective, the film captures the novel's bitter despair over the meaninglessness of war.
Where to stream: Netflix
The Banshees of Inisherin
Martin McDonagh's tragicomic The Banshees of Inisherin made waves when it premiered in theaters in October, and its reputation has only grown since debuting on streaming. The movie reduces what some (including apparently McDonagh) might deem to be Irish aggression to a microcosm on the fictional island of Inisherin, an idyllic but lonely spot of land. It is there that during the Irish Civil War of the 1920s, sweet and slow Pádraic (Colin Farrell) has his world rocked upon learning his best mate Colm (Brendan Gleeson) now hates him for no discernible reason. Further Colm doesn't want to speak to his buddy no more, and if Pádraic insists on discussing the matter, Colm will begin cutting his fingers off until the lesson is learned… you can see where this is headed.
Where to stream: HBO Max, VOD (UK options include Disney+ and VOD)
Elvis
Baz Luhrmann's biopic of Elvis Presley, the so-called King of Rock 'n Roll, is gaudy, decadent, and completely devoid of subtlety. In other words, it's a bit like Elvis himself, who is brought back to dazzling life by Austin Butler in a star-making performance that's pure electricity. This movie is probably not going to be the one to take him the top prize of the night, but Butler is one of the frontrunners for Best Actor, and for good-reason. Also the music's pretty neat.
Where to stream: HBO Max, VOD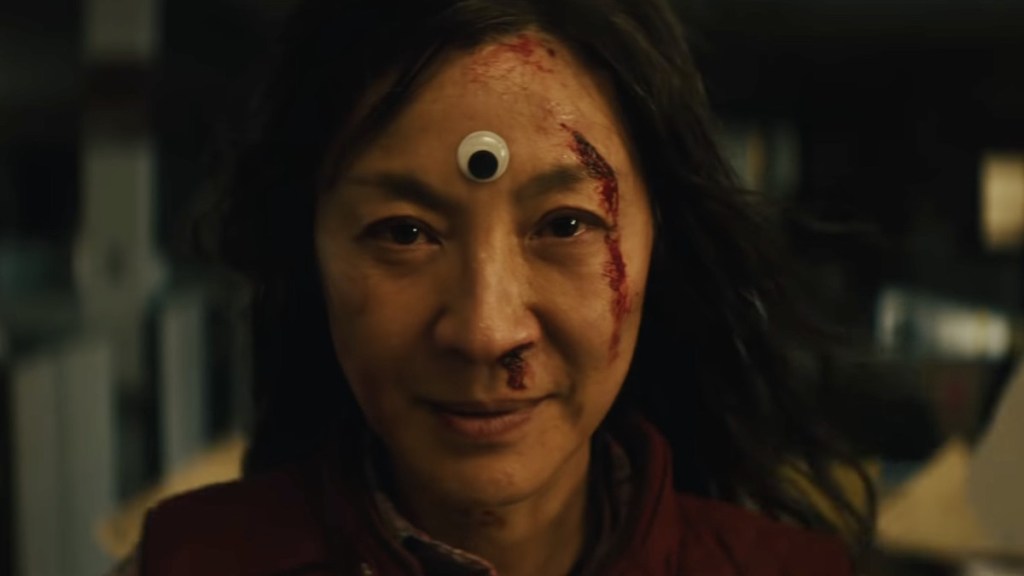 Everything Everywhere All at Once
One of the arguable frontrunners for Best Picture, Everything Everywhere All at Once came out of nowhere to knock people's socks off last March at SXSW. It's been impressing ever since in this kinetic vision from writer-directors Dan Kwan and Daniel Scheinert (aka the Daniels). Easily the best use of multiverse theory on film, the picture creates a sci-fi fantasia in which a lonely Chinese-American immigrant named Evelyn (Michelle Yeoh) discovers she's at the center of the universe's countless dimensions, and she alone will be able to save them by learning the skills of millions of other Evelyns… as well as the ability to confront her family about the difficult things left unsaid.
Where to stream: Showtime, VOD (including Amazon, YouTube) – UK options on VOD are here
The Fabelmans
Steven Spielberg has suggested The Fabelmans is the movie he's been waiting to make his entire life—a frank and honest depiction of his childhood and parents, which plays like wondrous cinematic therapy. It's a bold choice and beautiful to watch, even if the movie sadly struggled to find an audience in theaters. Now that it's a frontrunner for the Oscars' coveted Best Picture prize (as well as Best Director and several other major awards), hopefully The Fabelmans finds the viewership it deserves. Really, this is a genuinely satisfying little gem that can both haunt and heart-warm.
Where to stream: VOD (including Amazon, YouTube, and Apple)
Tár
Many critics' favorite movie of the year (including yours truly), Todd Field's Tár provides Cate Blanchett the floorspace to create one of the most fascinating and confounding protagonists in recent memory. Lydia Tár is an EGOT winner and the toast of elite culture when we meet her as the principal music director of the Berlin Philharmonic. However, the bigger they are, the harder they fall. And as we slowly learn, Lydia has spent a lifetime building her own effigy before lighting the match through a career built on hypocrisy, lies, and cruelty.
Where to stream: VOD (including Amazon, YouTube, and Apple)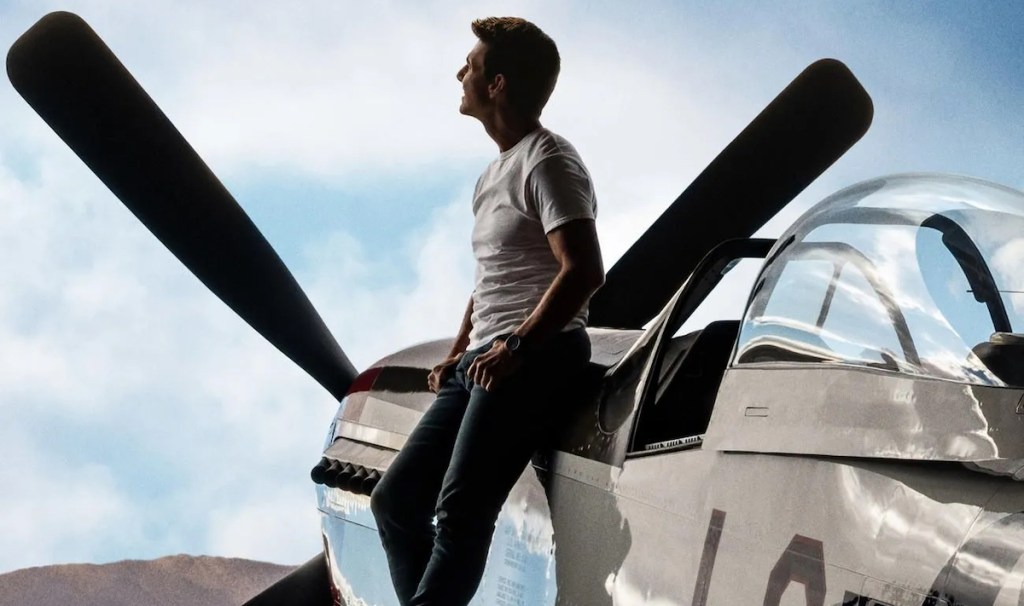 Top Gun: Maverick
Who would've thought returning to the Danger Zone would be one of the most satisfying cinematic experiences of the year? Tom Cruise certainly did, and he got the last laugh! In addition to grossing an astounding $1.5 billion worldwide, Top Gun: Maverick is a visually spectacular throwback to immaculately made Hollywood melodramas. For many moviegoers, it was the one that got them back into the theater.
Where to stream: Paramount+, VOD (UK VOD options can be found here)
Triangle of Sadness
Ruben Östlund's Palme d'Or winner seemed a long shot to get nominated for Best Picture (particularly this morning when it was shut out of other categories), but the acerbic "eat the rich" satire still managed to pull off a dark horse Best Picture nomination. The film is set primarily on a luxury yacht cruise for the super-rich and elite, who are treated like pampered babies by their overstressed staff and a drunken sea captain (Woody Harrelson) who quotes Marx if you can ever draw him out of his cabin. Yet… eventually things take a wild turn as forces of nature (both in terms of storms and the biological) run their course, and those on the top soon find themselves at the bottom.
Where to stream: VOD (including Amazon, YouTube, Apple) – UK VOD options can be found here
Those Not (Yet) Available to Stream
Avatar: The Way of Water
As you probably have guessed, this one is a long way off from being available to stream. James Cameron's greatly anticipated sequel to the biggest movie ever is on track to also become one of the biggest movies ever after premiering in cinemas a little over a month ago. Disney/Fox has no reason to stop letting those box office records pile up (along with all that money), even if Avatar: The Way of Water is now a Best Picture nominee.
Women Talking
Sarah Polley's exquisitely written and acted passion play—about a group of Mennonite women who discover the men of their colony have been drugging and raping them for years—won over critics and the Academy. However, as the movie only entered its wide theatrical release in January, you're unlikely to be able to see it on streaming before the Academy Awards.