News
Batman and Superman: Battle of the Super Sons – Exclusive First Look at When Robin Meets Superboy
Robin meets Jon Kent for the first time in the Batcave and it's the most perfect example of their relationship we've seen. Plus details on how to watch Batman and Superman: Battle of the Super-Sons free and early!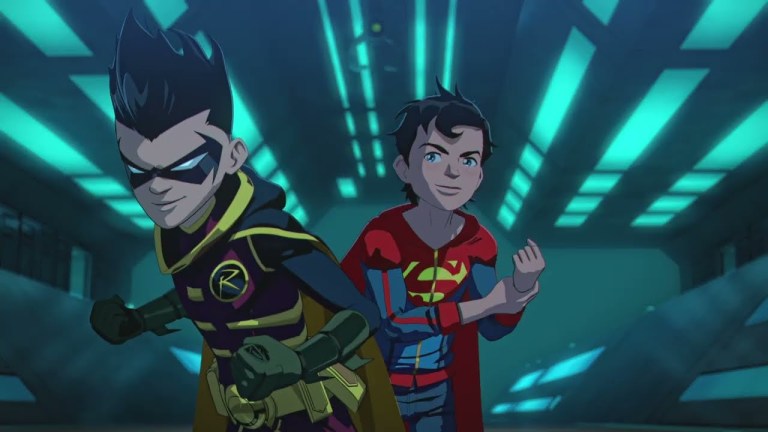 For a brief, glorious moment in the comics, Damian Wayne and Jon Kent were the next big thing in the DC Universe. Then Jon got aged up and sent to space, and Damian went off to Kumite Island to fight his grandma and they got split up. Oh well, that's comics for you! In case you can't tell, some folks are a little broken up about Super-Sons, the comic that followed young teen Superboy and Robin and was utterly delightful, ending.
But fortunately for those people, there's a new chance to see Jon and Damian goof off: Batman and Superman: Battle of the Super Sons, the new animated feature film coming to digital, Blu-ray and other home media formats on Oct. 18. And with its premiere coming at New York Comic Con at a main stage panel moderated by Den of Geek's own Mike Cecchini, we're thrilled to be able to give you a sneak peek at one of the scenes.
Check it out:
As you can see, this is a new animation style for these DC features: it's the first all-computer-generated animated feature from the long series of films, and the change looks pretty solid so far. There's a bit of an Aeon Flux vibe to the way the camera moves, and an Animatrix one to how the character models do.
Beyond the animation, though, the voice acting is pretty spot on. Jack Dylan Grazer (Freddy Freeman in Shazam!) nails Jon's wide-eyed awe at his new superhero world, while Jack Griffo (The Thundermans) perfectly embodies Damian's casual cynicism. Troy Baker is an old pro as Batman, and Travis Willingham is suitably staid as Superman.
And while it's not in the clip, it has been announced that the main villain of the movie is going to be none other than STARRO THE CONQUEROR. This is thrilling for about a hundred reasons, most of which (Jarro) will almost certainly never actually make it to screen. That being said, this should be a fine reason for Damian and Jon to save the world, and it should be a blast.
If you're at New York Comic Con, make sure you stop by the panel, where you can screen the ENTIRE film, before hearing it broken down by the folks who brought it to life.
Friday, October 7, 2022 3:30 -5:30 PM/Main Stage
Witness the unveiling of Warner Bros. Animation's first-ever all-CG animated, feature-length film when Warner Bros. Home Entertainment presents the World Premiere of Batman and Superman: Battle of the Super Sons.
Ahhhh, to be young…and charged with saving the world from impending doom! That's the burden that 11-year-old Jonathan Kent and reluctant young sidekick Damian Wayne face in this all-new DC Animated Movie. On his birthday, Jonathan Kent learns his dad is Superman and that he has latent superpowers of his own! He also meets the legendary Dark Knight and current Boy Wonder, Damian. But when the two boys are forced to team up to protect their loved ones from a hostile alien force, will they become the Super Sons they're destined to be?
Following the screening, filmmakers (director Matt Peters, producer Rick Morales, and writer Jeremy Adams) and key cast members (Jack Dylan Grazer, Jack Griffo, Travis Willingham, and Laura Bailey) will hold a panel discussion, including audience Q&A.
Batman and Superman: Battle of the Super Sons will be available on 4K Ultra HD Blu-ray Combo Pack, Blu-ray and Digital starting October 18, 2022.