News
Hogwarts Legacy's Sales Already Beat an Elden Ring Milestone
Last February, Elden Ring quickly became an astonishing sales success. This February, Hogwarts Legacy is already beating some of Elden Ring's early sales records.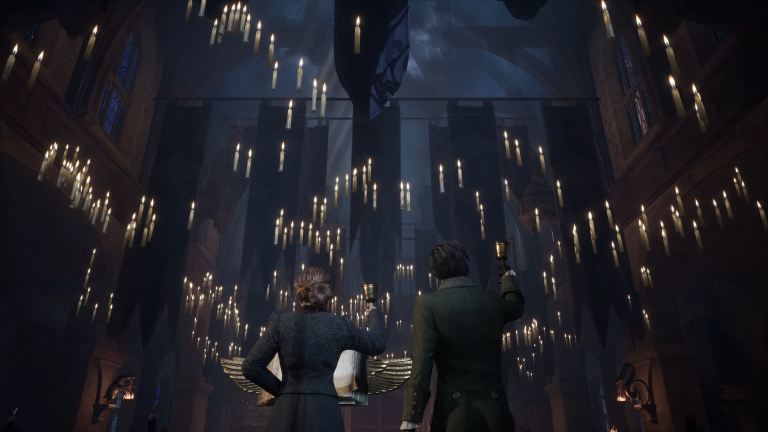 Hogwarts Legacy is based on the Wizarding World universe created by J.K. Rowling. You can read more about Rowling's history of transphobic remarks as well as find resources to support LGBTQ organizations here.
In February of 2022, Elden Ring was released to critical acclaim and impressive sales numbers. That game's accomplishments continued into 2023, but a new challenger for Elden Ring's crown recently apparated out of the aether. This challenger, of course, is Hogwarts Legacy, and it's already making surprising headway.
Last week, Hogwarts Legacy was released in two phases: Early Access and regular. While we don't have exact sales numbers available at this time, according to sites such as GamesIndustry.biz, the game probably pushed enough physical copies to fill the Hogwarts dining hall.
During release week, Hogwarts Legacy was the top-selling physical game in the UK, soundly beating other popular titles like Dead Space and God of War Ragnarok. What does this have to do with Elden Ring? By GamesIndustry.biz's calculations, Hogwarts Legacy's pushed a whopping 80% more physical copies than Elden Ring did during its first week of sales. Furthermore, 82% of Hogwarts Legacy physical editions were sold on PlayStation 5 (probably because PS5 owners receive an exclusive quest, the lucky muggles).
Granted, that's an early record to surpass, but it's still a significant one. At launch, Elden Ring was the fastest-selling FromSoftware title the world over (including in the UK). Of course, those aforementioned calculations only account for physical versions of Hogwarts Legacy and Elden Ring. Players can buy both games digitally, and, according to sites such as PCGamesN, Hogwarts Legacy is just as popular as a digital title. In fact, the game sold so well on Steam that it is now the first, second, third, and fourth-best-selling products on that digital distribution platform. That probably sounds like the result of the Confundus Charm on our brains, but, as PCGamesN notes, that is actually the result of WB Games selling early access standard, launch day standard, early access deluxe, and launch day deluxe copies.
Mind you, Hogwarts Legacy was shaping up to be a sales success even before it was released. A good month before Hogwarts Legacy launched, the game was the top-selling pre-order on Steam and PlayStation, and was the second-highest top-selling game on Xbox (according to Forbes). The game also quickly shot up Steam's concurrent user charts (even during the pre-release Early Access period). There were clearly quite a few people waiting to play this game, though the next few weeks and months will likely tell the tale. Will Hogwarts Legacy's slightly more positive critical reception hook gamers who were on the fence about the title due to its gameplay or the controversy surrounding it? The game has also yet to be released for PS4, Xbox One, and Switch, which could end up being a big deal for its long-term success (especially if those last-gen versions run well).
While Hogwarts Legacy has experienced a profitable first week of life, only time will tell if that pattern continues. More importantly, we'll have to see if the game continues to dethrone Elden Ring's sales milestones. After all, Elden Ring has sold 17.5 million copies as of November 2022, and those numbers only increased thanks to Elden Ring's performance at The Game Awards. That's a tall order for Hogwarts Legacy, but the game is already speeding toward that goal.