Features
The Best TV Shows of 2022
New hits, old favorites, and plenty of heroes led us through another sterling year of television. Here are the best TV shows of 2022.
Technically speaking, 2022 was a rough year for the television industry.
The previously unshakeable Netflix posted intimidating earnings losses, leading some observers to question whether the streaming bubble had burst. Meanwhile the newly-formed Warner Bros. Discovery hit choppy waters with its own streaming situation, making a mess of HBO Max in the process. And let's not even get into the Marvel of it all and whether Disney+'s TV offerings bode poor tidings for the MCU's Phase Four.
But here's the thing about all that behind the scenes drama: it didn't really matter! TV was still good in 2022, pretty much how it always is.
Ever since the medium launched in the early 20th century to sell us soap, it's been a faithful living room companion for millions of Americans. Those looking for laughs, intrigue, insight, discomfort, or really any other human experience were able to find on TV this past year. This is the year that brought us back to both Westeros (House of the Dragon) and Middle-earth (The Lord of the Rings: The Rings of Power), while introducing new locales like the planet Ferrix (Andor), The Original Beef of Chicagoland (The Bear), and Lumon Industries (Severance). That's not even to mention old friends like the kids of Hawkins, Indiana or the murder-obsessed podcasters of the Arconia.
Like we always do around these parts, we're using the end of this year as an excuse to celebrate our favorite TV shows of the past 12 months. Please enjoy our choices for the 25 Best TV Shows of 2022, and as always: stay safe and see you in 2023.
25. Search Party
Back when the first season of mystery comedy Search Party premiered on on TBS in 2016, it seemed like the kind of thing that was destined to become a one-off cult classic. The story about a quartet of millennial Brooklynites search for their missing friend (well, more acquaintance really) and finding nothing but trouble instead was marvelously executed but wasn't really poised to achieve mass appeal. In truth, Search Party never did get that mass appeal. But it did get a brilliant second season, then a brilliant third, and a brilliant fourth, before finally concluding with a brilliant fifth in January of this year.
Like the four seasons before it, Search Party season 5 changed its storytelling paradigm almost entirely. After living through a missing person's case, a paranoid thriller, a murder trial, and an abduction horror story, Dory Sief (Alia Shawkat) settles in for her final identity: cult wellness instructor. With the help of her three neurotic friends (and Jeff Goldblum), Dory attempts to achieve enlightenment – with devastating consequences. Search Party season 5 was a bold conclusion for one of modern TV's boldest comedies. – Alec Bojalad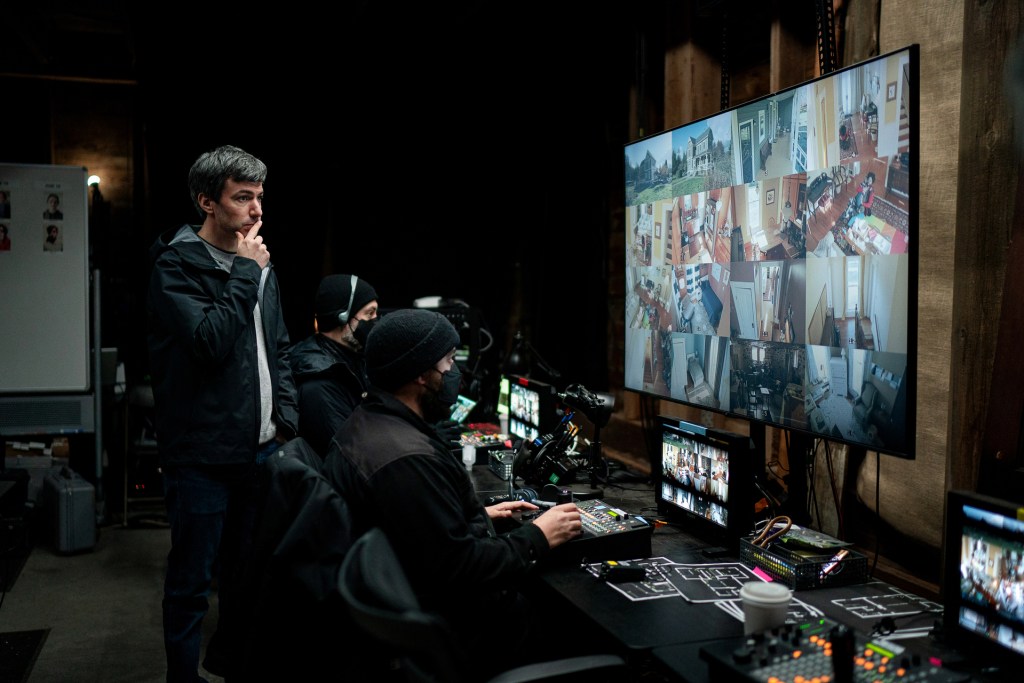 24. The Rehearsal
Ironically, Canadian comedian Nathan Fielder's second major American TV series The Rehearsal was seemingly the byproduct of a rehearsal itself. Fielder's first effort, Nathan For You on Comedy Central, is rightfully regarded as a cult comedy classic, but it was always clear that the deadpan satirist had a little more in the tank to offer. That show's 90-minute series finale, "Finding Frances," teased the full potential of "The Fielder Method." And that method comes to dark fruition in The Rehearsal.
The Rehearsal begins with a properly bonkers premise: Nathan Fielder will find people struggling with some sort of mundane social task and then spend millions of HBO's money to create an elaborate "rehearsal" space to train for that task. The Rehearsal's first few episodes stay true to that premise in hilarious, sometimes weirdly touching fashion. But as is the case with most Fielder enterprises, it doesn't take long before its revealed that the real subject of these experiments is Nathan himself. – AB
23. Ms. Marvel
Ms. Marvel is not only an empowering story about a young girl becoming a hero while learning about her family's history, it's also one of the most fun entries to watch in the MCU thanks to its unique art direction and Kamala Khan's (Iman Vellani) youthful spirit. After a bracelet from her grandmother gives her super powers, Kamala Khan decides to take after her favorite hero, Carol Danvers, and become a superhero herself. Seeing as she's never been a superhero before, there's a bit of a learning curve as Kamala learns how to use her new abilities and where they came from, but her enthusiasm and willingness to do what's right more than makes up for it.
What makes this series so special though, is the fact that we get to see so much of who Kamala is and where she comes from alongside her hero origin story. We get to see her as an Avengers and Captain Marvel fangirl, a student, a friend, a daughter, a Pakistani-American girl from New Jersey, and so much more. We get to see her family in Pakistan and learn how world events from decades ago impacted her and her family. But above all, we get to see Kamala become just as badass as the heroes she looks up to. – Brynna Arens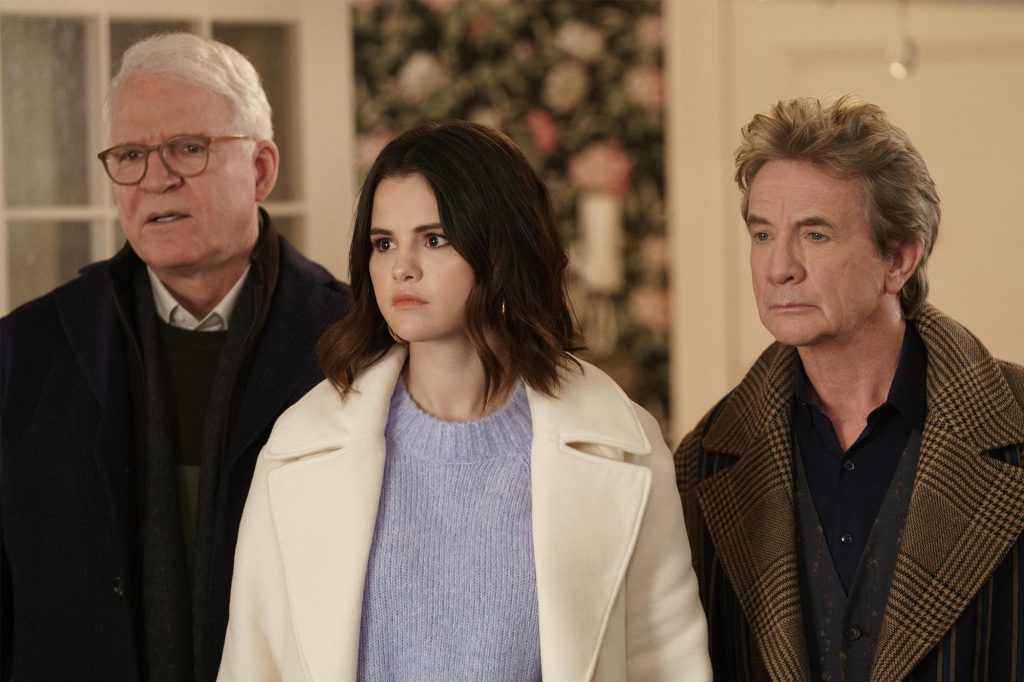 22. Only Murders in the Building
Truth be told, Only Murders in the Building season 2's attempts to distinguish itself from its beloved first go-around aren't always successful. Bless Amy Schumer but she's not quite at the same level of celebrity cameo realness as Sting. Cara Delvingne as Alice has fun but is a poor enough replacement for Amy Ryan as Jan Bellows that the latter has to return to the show to spice things up. The show even returns to several of the same season 1 storytelling beats to get to the bottom of Bunny Folger's murder.
But you know what? None of that really matters because Only Murders in the Building season 2 is still just a darn good time. The central premise of podcast enthusiasts Charles Haden-Savage (Steve Martin), Oliver Putnam (Martin Short), and Mabel Mora (Selena Gomez) solving a murder (in their building) is so strong that it's not hard to imagine the Hulu series going a dozen more seasons. As long as the central trio of Martin, Short, and Gomez remain intact Only Murders in the Building has our blessing. – AB
21. The Kids in the Hall
Whenever a cult favorite TV series gets a revival these days, there's a lot of trepidation from the fans. Honestly, a lot of those revivals aren't great and tend to blur the rose-tinted view of the original run's impact on pop culture. While The Kids in the Hall have never really been away away – they've toured extensively and even reunited on TV for Death Comes to Town – the promise of a new season of Kids sketches bringing back beloved characters alongside fresh ones, now that the troupe were in their late-50s or early-60s, brought about a similar trepidation.
Did the gang still "have it"? Was there anything new to add to their old, iconic characters that wouldn't just feel like nostalgia box-ticking? Well, we shouldn't have worried. Dave, Bruce, Kevin, Mark, and Scott's comedic talent hasn't faded one iota. As each episode dished up banger after banger, it became clear that the Kids can still do this all day. – Kirsten Howard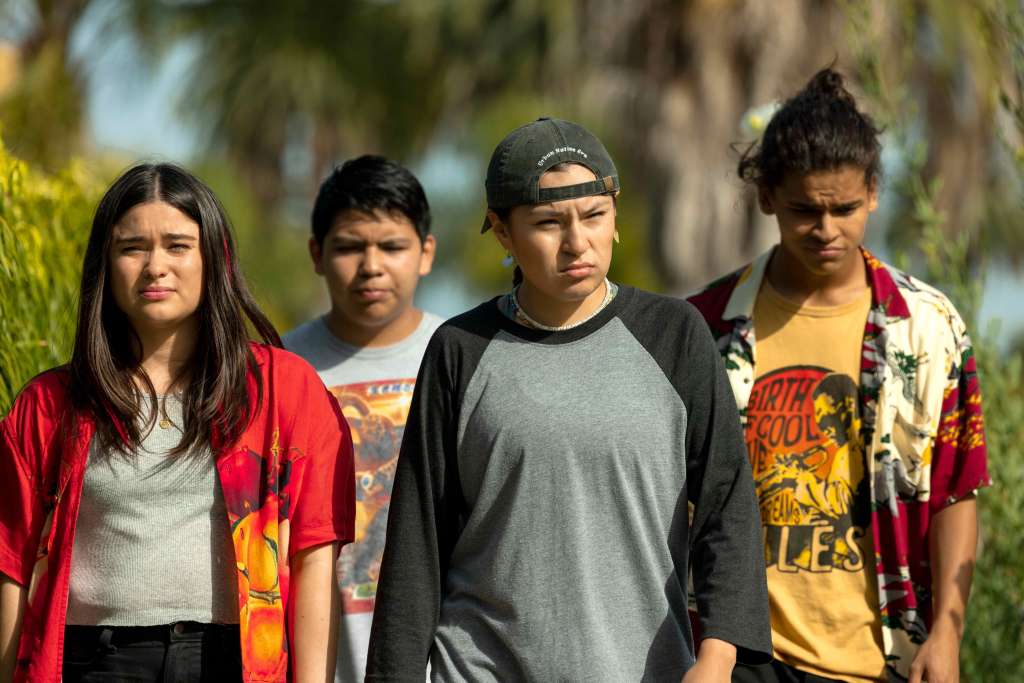 20. Reservation Dogs
Sometimes we like to say that individuals, sports teams, or even TV shows have "heart" but like … what does that even mean? "Heart" is kind of a hard concept to articulate or measure. Difficult as it may be to define though, it's much simpler to identify. And it's never been easier to find than in FX's Reservation Dogs. Airing its second season in 2022, this half-hour comedy/drama maintained the indie spirit that made it special while maturing and expanding its story.
Created by Sterlin Harjo, a member of the Seminole nation, and starring almost exclusively indigenous actors, Reservation Dogs season 2 remains the story of a handful of Oklahoma kids trying to get the hell out of Oklahoma while also implicitly understanding they'll never leave each other behind. Ostensibly a comedy, Reservation Dogs is undeniably funny at times but more often than not it's a touching slice of life that feels universal despite being so damn specific. And yes, it's got all the heart you'd ever need. – AB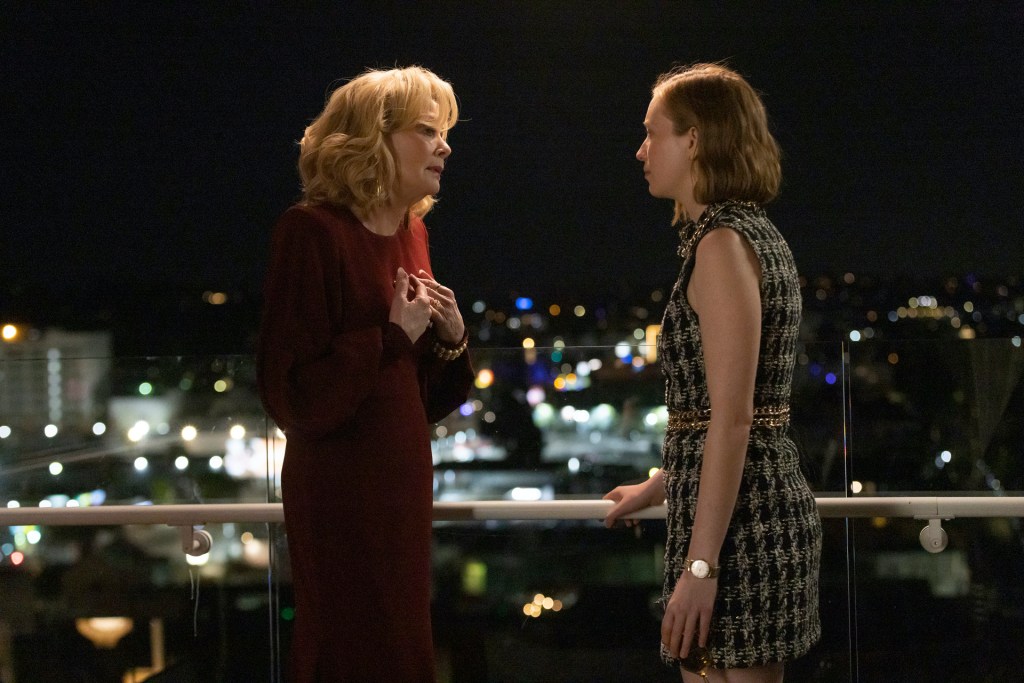 19. Hacks
Going into season 1 of HBO Max comedy Hacks, you just knew that Jean Smart was going to deliver. Because that's what Jean Smart does – call her the mailman. And deliver she did in her hilarious, affecting performance as fading Las Vegas comedienne Deborah Vance. What few could have guessed, however, is that just how crackling the chemistry would be between Smart and her co-star Hannah Einbinder as Ava Daniels.
Moreso than ever, Hacks season 2 was the Deborah and Ava show. The season's eight episodes follow the comedian and writer as they travel around the country to reclaim Deborah's career…all the while one sues the other for breach of contract. The whole season is a treat but the finale in particular is a barn-burner with Deborah coming to the heartbreaking realization that it might be time to let her little punching bag go. HBO Max, if you even think of axing the already announced season 3, we riot. – AB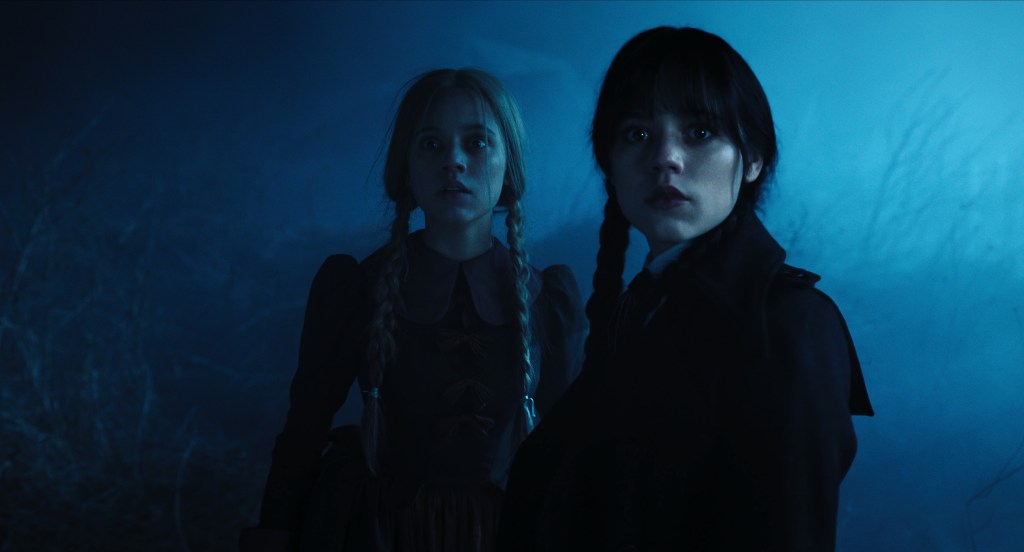 18. Wednesday
Director Tim Burton finally gets to make Chas Addams' family into his own image, and Wednesday is not too far from the spirit of the original single-panel cartoons. Even playing against Christina Ricci, the most iconic of underplayed Wednesdays from Barry Sonnenfeld's The Addams Family movies, Jenna Ortega is as deadpan in the title role as a corpse. And not just a reanimated corpse, like her vampire classmates. Wednesday Addams saves her most animated sequences for the dance floor, even though some of the other dancers can make their charcoal sketches come to life.
While Gomez (Luis Guzmán) and Morticia (Catherine Zeta-Jones) fade behind the student body at Nevermore Academy, Fred Armisen is in full Jackie Coogan mode in his tributary and electrifying take on Uncle Fester. He is a black sheep on a dalmatian colored motorcycle. Danny Elfman's score is a co-star, with more dexterity than Thing. The sonics capture themes, evoke discovery or suspense, mystery or mirth, all with a consistent gallows' humor. Wednesday is creepily cheerful, delightfully subversive, and morbidly offbeat. Squeezing itself uncomfortably between Harry Potter and Chilling Adventures of Sabrina, the classroom horrors mix well with mysterious murders. Wednesday is also an unabashed sociopathic who can ritualistically dismember a two-faced suitor without sacrificing a laugh. – Tony Sokol
17. Star Trek: Strange New Worlds
The current era of Star Trek streaming shows has offered up a variety of flavors. From the brand new characters in the "no-longer-a-prequel" Discovery, to the return of beloved favorites in Picard, to animated series like the humorous Lower Decks and the gorgeously animated Prodigy (seriously, the opening credits alone are worth your time), which are both set in otherwise unexplored areas of the Trek timeline. Which leaves Strange New Worlds in a difficult place: how can a show set on the flagship of the entire franchise, during one of its most famous eras, featuring new versions of some of the most iconic characters in sci-fi history distinguish itself? By doubling down on everything that made Star Trek a success in the first place, of course!
While Discovery and Picard have embraced modern TV storytelling structures, telling heavily serialized storytellings across their seasons, Strange New Worlds has gone back to the original Trek mission statement both in spirit and in its more episodic format. Despite being set in the years before James Kirk led the Enterprise crew, it sidesteps many of its "prequel" concerns, and the fact that most Trek fans are already familiar with Captain Christopher Pike's eventual tragic fate, by letting the character in on that knowledge himself, giving a unique dimension to the man in the center seat. And it doesn't hurt that it looks spectacular, updating the look of the original Star Trek TV series (bright colors and all) without feeling like it's paving over the franchise's past. While many Trek efforts over the last 20 years or so have been informed by an ever-increasing need for bigger action and more theatrical villains, Strange New Worlds puts the focus back on a more compassionate, adventurous Starfleet, all while proving that there are still plenty of surprises to be had aboard the Enterprise. – Mike Cecchini
16. Atlanta
No show provided more bang for its viewers' buck in 2022 than Atlanta. The surreal FX comedy created by Donald Glover offered up not just one but two full seasons of television. Season 3 followed the Atlanta gang as they embarked on a European tour for Paper Boi (Brian Tyree Henry) while the fourth and final season took them back to home for a proper Georgia sendoff.
Through it all, Atlanta was its usual self: excellent and completely unpredictable. Over the span of 20 episodes Atlanta was gothic southern horror, pure slapstick comedy, and always engaging. Though the show's run may be wrapped for now (and Glover off to Amazon for a big overall deal), it is sure to loom large in TV history as a show that was always The Most. – AB
15. Abbott Elementary
Abbott Elementary is truly one of the most wholesome shows to come out this year and, thanks to the release schedule, 2022 gave us over twenty hilarious episodes across the series' first and second seasons. Set in a Philadelphia public school, Abbott Elementary is a mockumentary sitcom that follows the teachers of the titular school as they do their best to educate children and run their classrooms with the few resources the city and school district provide them.
The series uses humor to point out real issues that teachers are facing in public schools right now from overcrowded classrooms to buying supplies with their own funds to parts of the school building being held together with duct tape and dreams. The ensemble cast led by series creator Quinta Brunson is phenomenal, and while it's hard to pick a favorite episode, the Halloween episode from season 2 is honestly one of the best episodes of television I've seen this year. Abbott Elementary injects its serious premise with a pure joy that only makes the series' arguments stronger. – BA
14. Stranger Things
With its fourth and penultimate season in 2022, Stranger Things stretched the limits of what a "TV show" even is. The batch of nine episodes premiered with seven chapters in May before adding on two super-sized entries in July. And by "super-sized" we're talking nearly four hours combined. Naturally, this led to some Discourse (TM) about whether Netflix had gone fully mad in giving its beloved Stranger Things creators The Duffer Brothers carte blanche. That's an entirely fair question, but what the Discourse largely missed this time around is that Stranger Things season 4 still ruled.
Like its first, second, and third seasons before it, Stranger Things season 4 was an immensely satisfying thrill ride of storytelling. The season took every D&D-saturated element that worked before and continued to hammer away at them. This time around we get an exciting batch of new characters, led by the instantly beloved Eddie Munson (Joseph Quinn). More importantly than that, we also got a true Big Bad befitting the series' epic intentions. Season 5 is set to be the last go-around for Stranger Things, and thanks to the arrival of Vecna, we know it will be a titanic struggle for our Hawkins heroes. – AB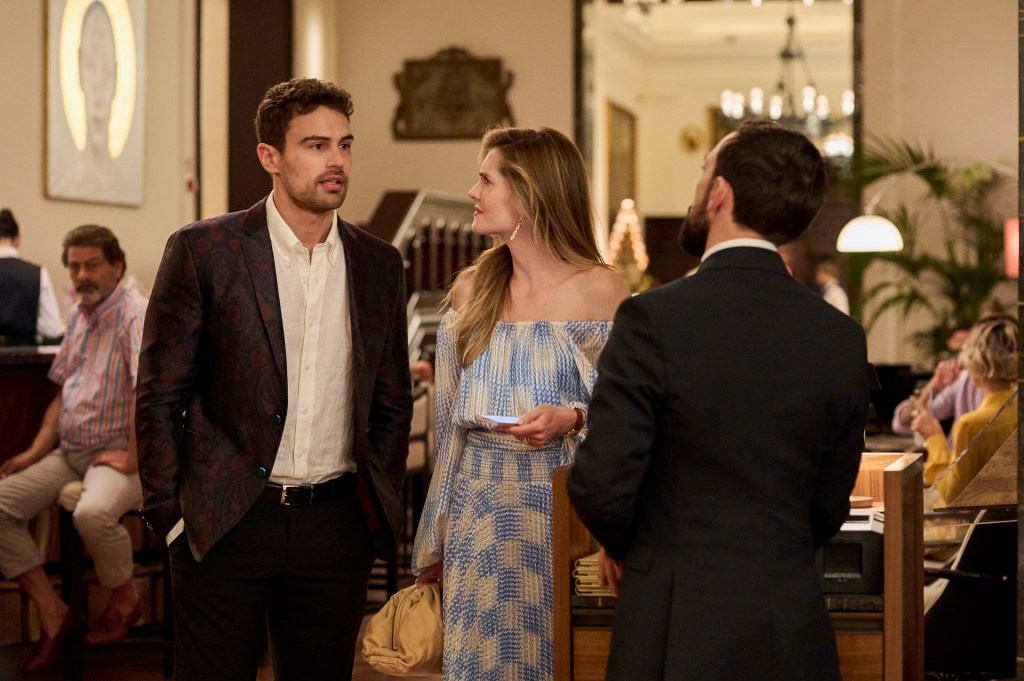 13. The White Lotus
Did we need a second season of Mike White's decadent hate letter to the rich? It's both a valid and superfluous question, akin to asking do we really need the obscenely rich in the first place? They exist, and so does The White Lotus season 2. And you know what? We're glad at least the show does, because once again White viciously critiques the wealthy elite while letting viewers live vicariously through them.
In the second go-round, events move to sun-kissed Sicily, and the focus becomes less about class than it does sex: how it's used, how it's exploited, and ultimately how it's commodified—usually by so many variations of toxic masculinity whose language and etiquette might change, and yet their priorities remain timeless. This is personified by the Di Grassio boys, played by three generations of actors. All wind up enamored with the same woman: a sex worker who will get what she's owed. Ultimately, however, what makes The White Lotus a supremely satisfying guilty pleasure is Jennifer Coolidge, who's frivolous Tanya is elevated from being a comedic showstopper to leading her own little tragicomic opera. Brava. – David Crow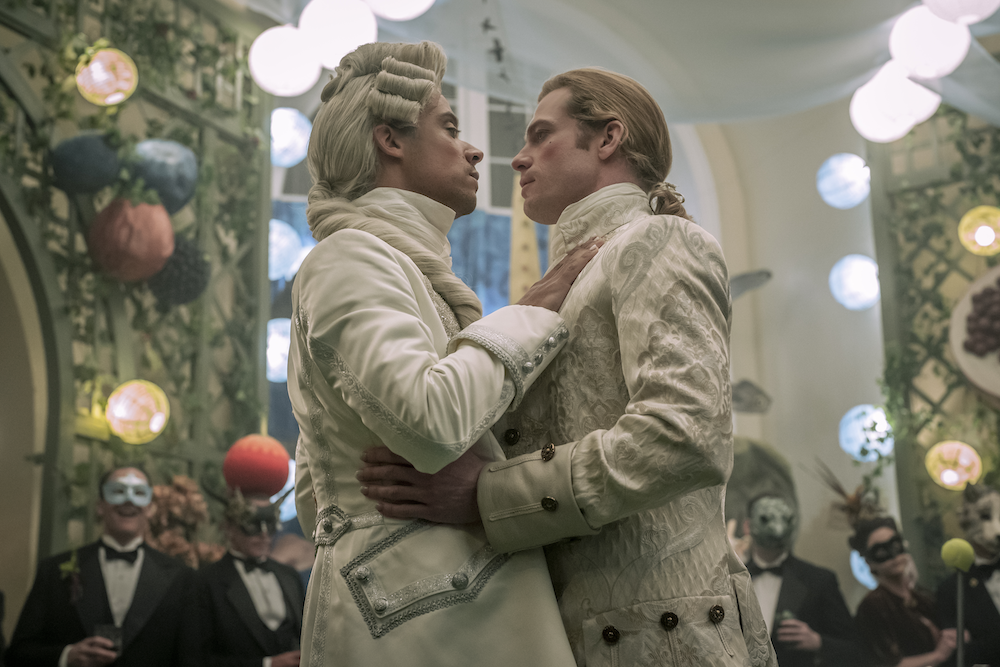 12. Interview with the Vampire
For all the liberties writer/creator Rolin Jones took in updating Interview with the Vampire, AMC's first entry into the Anne Rice universe is unambiguously faithful to the spirit of the novel series. Sexually adventurous, romantically torturous, and gleefully blasphemous, it is the best vampire series TV has had to offer. Sorry, Buffy. Good try, True Blood. Starring Jacob Anderson as Louis de Pointe du Lac, Sam Reid as Lestat de Lioncourt, and Bailey Bass as the forever-young vampire Claudia, the horror lies in interpersonal relationships and how they bleed out. Timelines may shift, ages change, and ethnicities reflect a diverse world and a new political undercurrent, but the family retains its eternal dysfunction.
The atmosphere reflects and refracts the dual nature of the vampires passing through. New Orleans is lovingly captured on beautifully rendered sets, from skewered perspectives. From the opening dissonant chord, the score is exciting enough to move transitioning street thug Louis to perform a soft-shoe duet, and classically-trained musician Lestat to put a boogie-woogie rhythm to a Bach figured bass. The series is filled with horror genre defining moments, and a wry sense of humor so cruel it can choke the laughter. Then there's the blood, forever on tap as appetizer or main course. Served in crystal flutes or pooling under church pews, it gives life to the series, death to most mortals, yet can look enticingly delicious. – TS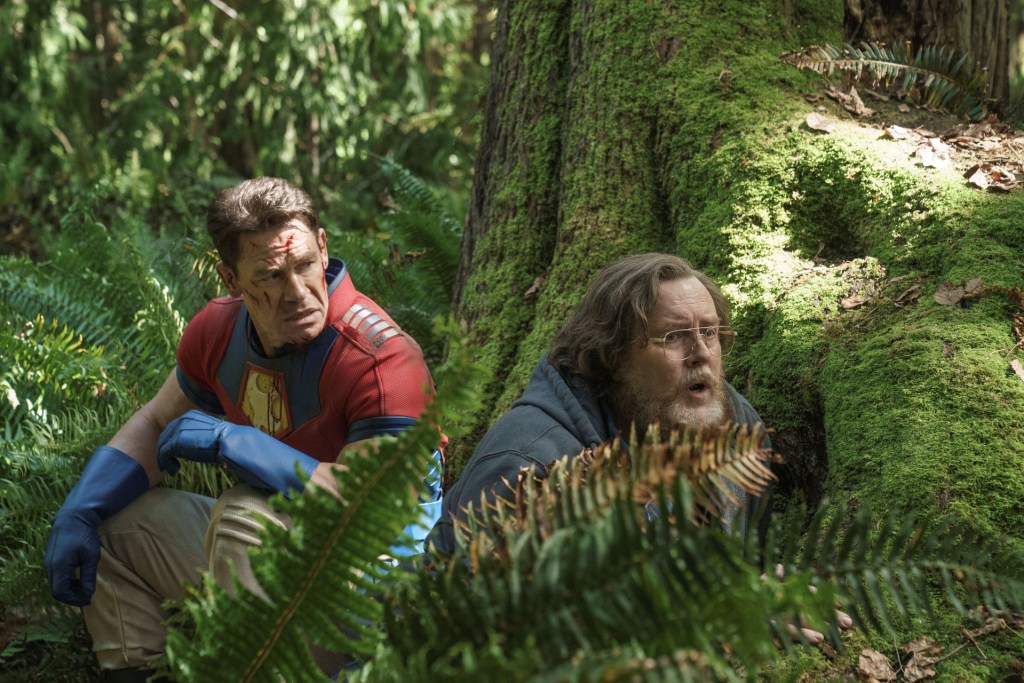 11. Peacemaker
James Gunn has proven several times over that he can take obscure comic book characters and not only make them relevant, but use them to tell stories that are both weird and compelling. He did it first with the Guardians of the Galaxy film series then with his take on The Suicide Squad, before gracing us with the gem that is Peacemaker.
Peacemaker follows the character Christopher Smith a.k.a Peacemaker (John Cena) after he's left for dead at the end of The Suicide Squad as he joins a secret A.R.G.U.S. task force in exchange for his freedom and a second chance at life. Does he start his second chance off as a changed man? Absolutely not, but that's where the hidden charm of this series lies. On paper, Peacemaker isn't a character we should be rooting for, but between James Gunn's writing and John Cena's performance, it's hard not to feel for this guy as he and the task force learn to trust each other and become an incredibly dysfunctional pseudo-family.
But it's not just the characters that make this series worth watching, Peacemaker also has the cutest eagle – named Eagly of course – body-snatching aliens, and a title sequence that begs you to dance along while asking if you really want to taste it (and trust me, you do). – BA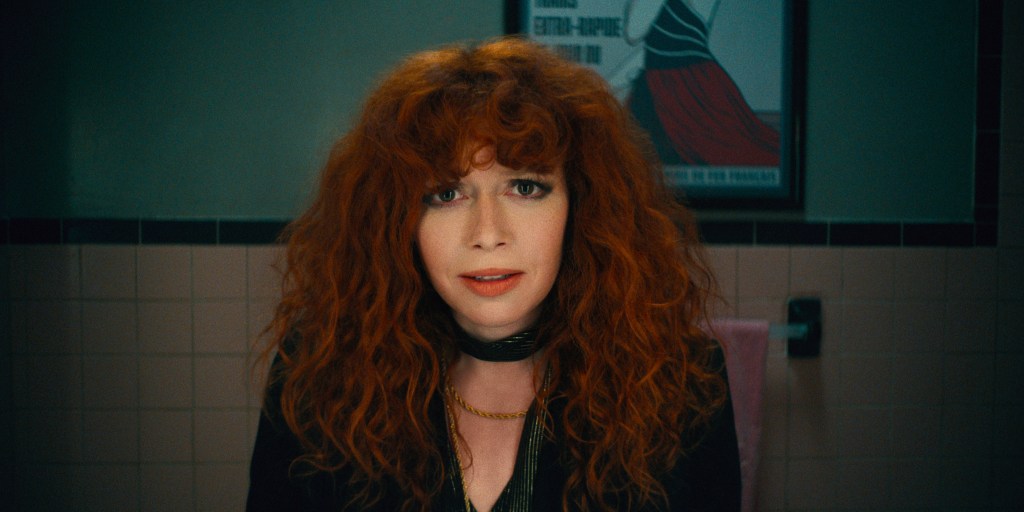 10. Russian Doll
The three year wait between seasons 1 and 2 of Russian Doll was a long one, but it was well worth it. Upgrading from time loops to time travel, the second season of Russian Doll saw Nadia (Natasha Lyonne) and Alan (Charlie Barnett) unpack generational trauma with the help of the universe and a subway car that takes them through time into the lives of their ancestors.
But despite the heaviness of this season's subject matter, Russian Doll manages to strike an almost perfect balance between it and the dark humor the series is known for. It's not so much that we're asked to laugh at Nadia's qualms with the universe, but rather the series is using humor and laughter to help us connect with Nadia and Alan's journey. I'm sure a lot of us have things that we wish we could change about our family's past or unavoidable events that shaped us into the people we are today that we wish would have gone differently. Russian Doll has once again given us an existential-crisis inducing good-time this season, and I wouldn't have it any other way. – BA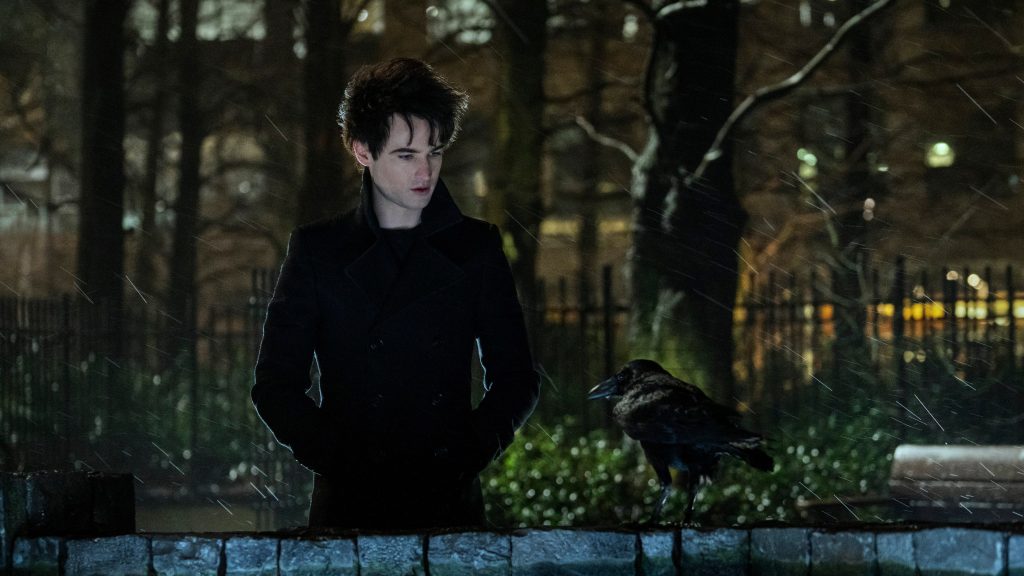 9. The Sandman
It wasn't quite 70 years trapped in a crystal prison, but The Sandman fans had a long wait for a screen adaptation of the cult Vertigo fantasy comic series. Creator Neil Gaiman first met with Warner Bros. to discuss a potential movie version as long ago as 1990 (in which he apparently pleaded with them not to make one), and multiple plans had been abandoned in the decades since. Finally, in 2022, it arrived.
Netflix gave us a 10-episode first season adapting the comics' first two volumes, followed by the surprise drop of a bonus episode covering 'Dream of a Thousand Cats' and 'Calliope'. This vast, often thought unfilmable story about Dream of the Endless and his mythological siblings Destiny, Death, Destruction, Desire, Despair and Delight/Delirium was here. And guess what? It was good. The casting, with Tom Sturridge as Morpheus, Gwendoline Christie as Lucifer, plus too many other treats to name, was strong. The look was right, the feel was right, and standout comic stories like '24 Hours' had been captured in all their unhinged glory. Best of all? It's been renewed for season two. – Louisa Mellor
8. Severance
The central conceit of Apple TV+'s Severance is an undeniably intriguing one. What if you could divide your consciousness between your work life and your home life? After a simple procedure, never will the two versions of you meet again. That is certainly fertile ground for any science fiction story. But here's the thing about fertile ground: you've still got to till the soil. In other words, an intriguing premise does not a great TV show make.
In 2022, Severance knew exactly what to do with its premise and ended up turning in one of the most satisfying first seasons of a sci-fi series since …. Lost? … ever? The cast of "innies" who have voluntarily separated themselves from their non-work lives at Lumon Industries is an incredibly compelling one from Adam Scott's Mark S. to Britt Lower's Helly G. to even Christopher-freaking-Walken! Directed with a superb sense of claustrophobic unease by Ben Stiller, each episode of Severance deepens the mystery of the workplace thriller, while elevating its surreal sense of dark humor. – AB
7. House of the Dragon
Reports of Game of Thrones fandom's demise were greatly exaggerated, as it turns out. So too was what felt like a universal resistance toward the idea of a prequel series set hundreds of years before the events of that 2010s show. Author George R.R. Martin getting Ryan Condal, a friend and scholar of his books, to co-showrun the series clearly helped a great deal since House of the Dragon turned out to be an intelligent adaptation that often enhanced the source material in Martin's Fire & Blood novel.
Both more intimate and operatic than the sprawling Game of Thrones, there is an unrelenting air of tragedy that oppresses the insulated family lines in House of the Dragon. Hopscotching across years and sometimes decades during its episodes, HotD's unique pace took some adjustment, but the effect is uncannily like watching a historical play in which each act deliberately moves us closer to ruin. And through it all, a superb cast brings new levels of gravitas to Westeros.
There is of course the social media friendly bad boy antics with a heart of gold by Matt Smith, as well as two compelling portraits by Milly Alcock and Emma D'Arcy as Rhaenyra Targaryen, the woman a realm of men would go to war in order to keep from power. Yet for our gold dragons, the image that will haunt is Paddy Considine resembling the Mask of Death as he brings all the fury of Lear to a set piece where he will… sit on a chair. If only his family could also see that seat is not worth this much suffering. – DC
6. What We Do in the Shadows
What We Do in the Shadows just seems to get better and better as time goes on, and I honestly don't know if I ever want it to end. Season 4 saw Nadja (Natasia Demetriou) take charge and open a vampire nightclub, Laszlo (Matt Berry) become a father to baby Colin Robinson (Mark Proksch), Nandor (Kayvan Novak) try to settle down and find a wife, and Guillermo (Harvey Guillén) finally deciding to stop letting the vampires walk all over him and take control of his own future.
This season gave us Mark Proksch's face edited onto the body of a child, Matt Berry saying "New York City" in the strangest yet funniest dialect I've ever heard, and a deeper exploration of the supernatural world these characters live in. What We Do in the Shadows is almost always guaranteed to be a good time whether it's your first or fiftieth time watching it, and the episodes we got this year are among some of the best yet. – BA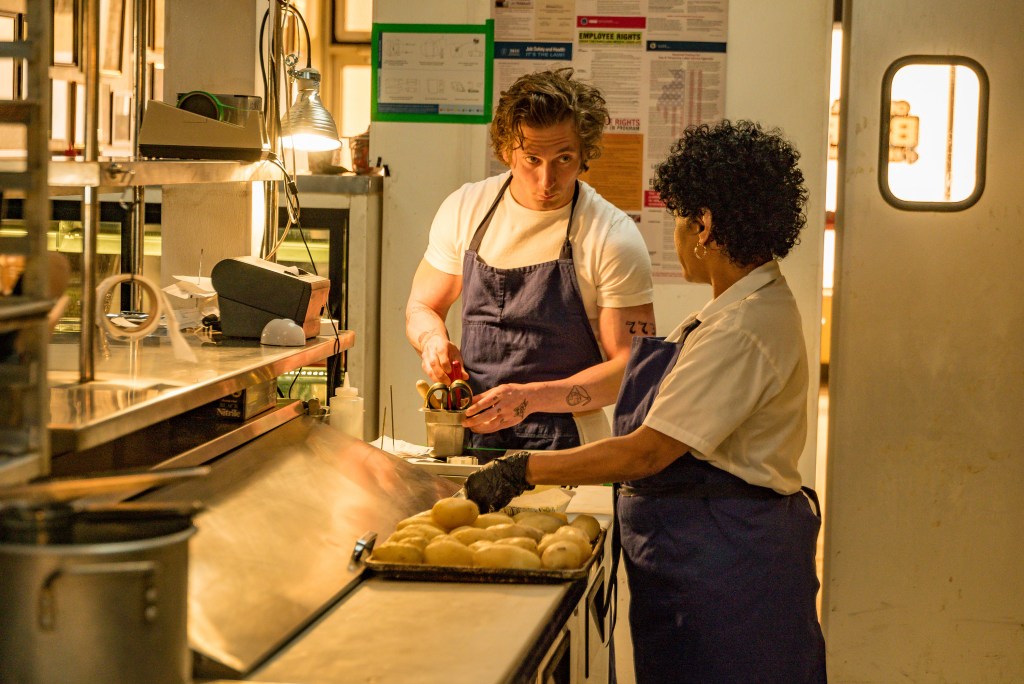 5. The Bear
A word of mouth TV hit is rare, especially when a network or streamer will often cancel a show before it can even get to that stage, but The Bear managed to slowly win people over in 2022 through enthusiastic reviews and recommendations. To get someone to watch it, you had to explain more than the plot. "A respected chef comes back home to improve the family sandwich shop" – hardly a wild concept likely to intrigue many – but The Bear is so much more than that.
It's complex characters butting heads in a super claustrophobic environment. It's the way things spiral out of control. It's the gallows humor. It's the cracks in family, and what it takes to build a legacy from broken pieces. It's people yelling "hands!" "corner!" "behind!" or "cousin!" It's a satisfying finale. It's the ingredients that make the meal. But, yeah, at the end of the day, it's also about having eaten a damn good sandwich. – KH
4. The Boys
The Boys season 3 somehow managed to be even more bloody, raunchy, and jaw-dropping than the last thanks to the addition of Jensen Ackles as Soldier Boy. While the titular group of supe-haters try their best to go straight and use their skills for the greater-good, it doesn't take long for for Billy Butcher (Karl Urban) to go on his own mission of revenge that includes tracking down Soldier Boy, the only supe strong enough to beat Homelander (Antony Starr).
This season has everything: supe orgies, octopus foreplay, more exploding heads, the Ant-man exploding meme but inside a penis, a musical dance number, temporary super powers, and so much more. The Boys continues to balance truly insane moments with poignant satire that isn't too heavy-handed while giving its characters compelling arcs, making for a great TV show that only continues to get better and wilder with every season. – BA
3. Barry
Barry is a different breed of series. This isn't only because of its naturally contorted reality, but the consummate artistry which goes into making it more than unique. It is the darkest of comedies with the brightest intentions, uproariously funny, anguished as hell, and romantically challenged. Only NoHo Hank (Anthony Carrigan) and Cristobal Sifuentes (Michael Irby) know how to make things work. They do things for love which go beyond couples therapy or international criminal codes.
As special forces vet-turned-hitman-turned-actor Barry Berkman, Bill Hader bristles under the surface, weighing a dozen things at a time, keeping control, and weaponizing it. When Barry lets go, he rules every scene, whether it's on an acting school stage, or leading a high-speed motocross dirt bike chase on Los Angeles's 710 freeway during rush hour. Barry is equally hysterical and perilous, and the balance tips haphazardly. Anything can happen to anyone at any time because the show defies precedent, whether in character, storytelling, or joyous entertainment value. – TS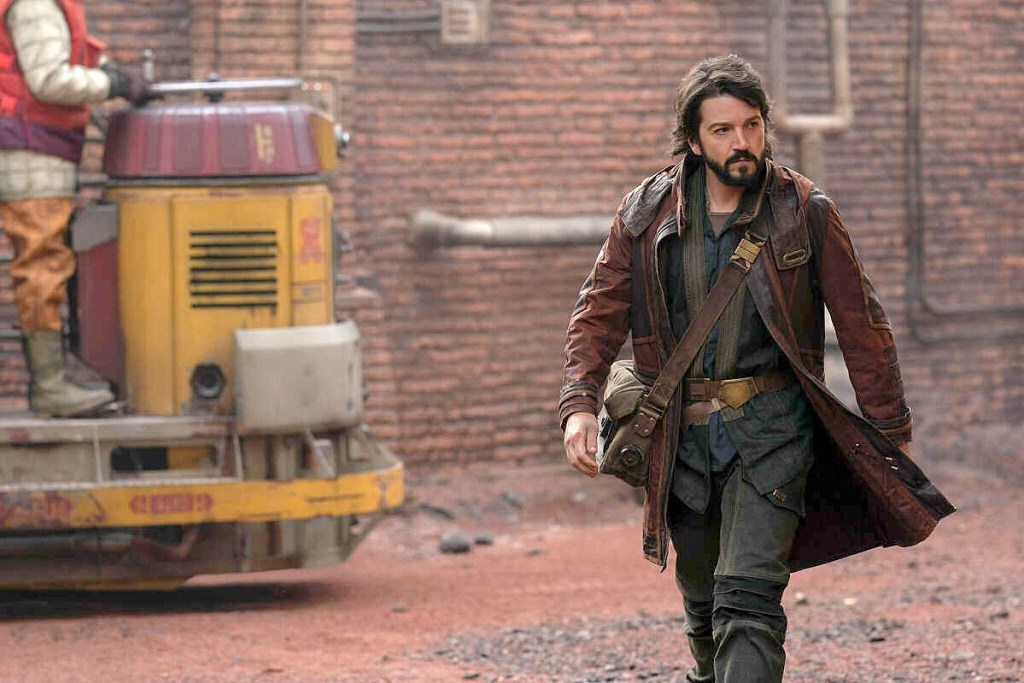 2. Andor
Telling the story of rebel Cassian Andor (Diego Luna) before the events of Rogue One, this Star Wars series has become a somewhat sleeper hit of 2022. Andor starts slow, but the build up to the finale is well worth your time. Andor shows us the strength it takes to rise up and fight against fascism instead of trying to lay low and hide from it. The series proves that you don't have to be a perfect hero to fight against injustice, and that even acts done simply out of a need for survival can still be powerful acts of rebellion.
Across the board, the acting in this series is phenomenal, though Cassian's arc on Narkina 5 is easily one of the best parts of this season thanks to Andy Serkis' top-tier performance as Kino Loy. Andor's connections to the rest of the Star Wars universe are loose enough that even casual fans of the franchise can enjoy the story, yet strong enough for hard-core fans to appreciate how special this series is in the grand scheme of things. Tony Gilroy clearly got to tell the story he wanted to, and this universe is all the better for it. – BA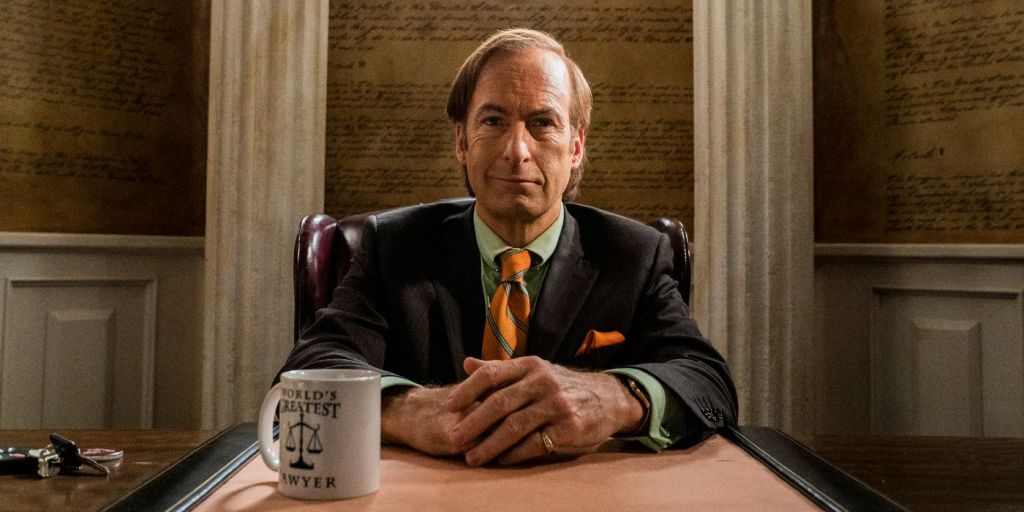 1. Better Call Saul
READERS' CHOICE
Watching the season finale of Better Call Saul felt like losing a good friend. Not that I'd visit "Slippin'" Jimmy McGill at ADX Montrose, but I'd consider sneaking cigarettes to Saul Goodman in a low-security prison in North Carolina, or coffee to go with Gene Takovic's cinnamon bun. Bob Odenkirk, a master comic talent, brought one of the most in-depth character studies to TV. But he didn't do it alone. Better Call Saul is one of the very few spinoffs to arguably exceed the original, in this case, the groundbreaking antihero classic Breaking Bad. Walter White (Bryan Cranston) and Jesse Pinkman (Aaron Paul) ran with incredibly detailed supporting players, but Saul Goodman's coterie are masterpieces of nuanced diversity.
Mike Ehrmantraut (Jonathan Banks), Gus Fring (Giancarlo Esposito), Hector Salamanca (Mark Margolis), even Krazy 8 (Max Arciniega), get our attention, varying degrees of respect, and empathy. Nacho Varga (Michael Mando) evolves into a complicated antihero figure everyone can relate or aspire to. We care, and deeply, but let's be honest, never as much as we do about Kim Wexler. Rhea Seehorn tied everything together while consistently loosening moral strings to make them easier to trip over. She loved the danger so much it scared her, and she was always stronger than Jimmy. Kim is the only reason we don't want to throttle Jim McGill for not Saul Goodmaning his way out of prison. – TS
Other shows receiving votes: Star Trek: Lower Decks, Obi-Wan Kenobi, The Marvelous Mrs. Maisel, The Dropout, Ozark, Harley Quinn, Rick and Morty, A League of Their Own, Welcome to Wrexham, The Righteous Gemstones, Euphoria, Moon Knight, Never Have I Ever, Bob's Burgers, Ghosts, Chucky, Shenmue The Animation, The Lord of the Rings: The Rings of Power, Inventing Anna, Dead End: Paranormal Park, The Sex Lives of College Girls, The Great North, Outlander, Young Royals, The Man Who Fell to Earth, Power Rangers: Dino Fury, Pam & Tommy, Heartstopper, For All Mankind, Our Flag Means Death, Love After World Domination, Bluey, Guillermo del Toro's Cabinet of Curiosities, Tatami Time Machine Blues, She-Hulk: Attorney-at-Law, Kevin Can F**k Himself, Solar Opposites, Tales of the Walking Dead, Killing Eve, Star Trek: Picard, Orville: New Horizons, The Watcher, Bridgerton, Love Victor, Evil, The Walking Dead, 1899, Industry, Dead to Me, Resident Alien, Star Trek: Prodigy, Quantum Leap, Girls5eva, Warrior Nun, Yellowstone, Manifest, Under the Banner of Heaven, Reboot, The Patient, Dahmer, The Peripheral, The Staircase, Beavis and Butt-Head, The Umbrella Academy, Odd Taxi, We Own This City, The Offer, Willow, Mobile Suit Gundam: The Witch From Mercury, Archive 81