Features
The Mandalorian Season 3: Grogu's Return, New Jedi, and What's Next for the Star Wars Series
How is Baby Yoda back and why does Din have to head to Mandalore? All your The Mandalorian season 3 questions answered!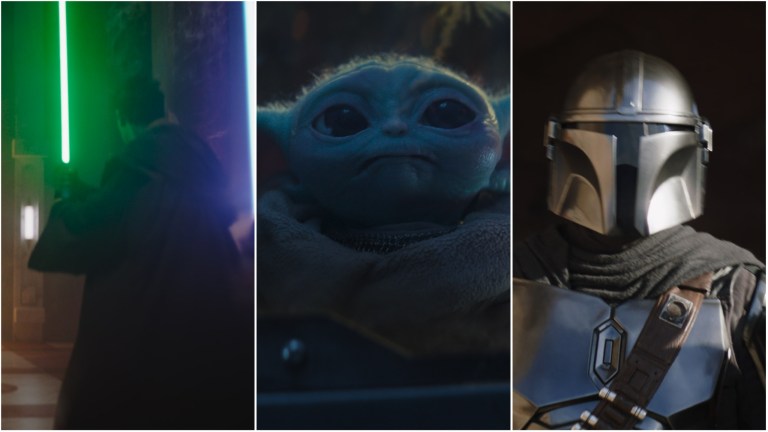 This Star Wars article contains spoilers for The Mandalorian and The Book of Boba Fett.
The wait has felt like an eternity, but The Mandalorian is finally back for its highly anticipated third season. After an over two-year hiatus, bounty hunter Din Djarin and his little Yoda pal Grogu return to our TV screens for a whole new adventure that will see them explore new corners of the galaxy as well as visit a few old friends. The season picks up where The Book of Boba Fett left off and kicks off a (reportedly) year's worth of storytelling in the "Mandoverse," which will soon also include the spinoffs Ahsoka and Skeleton Crew.
Since three years is a long time between new seasons of a lore-heavy show like The Mandalorian, you may have quite a few questions heading into season 3. But we've got you covered with everything you need to know before the show hits Disney+!
The Mandalorian Season 3 Release Date and Episode Count
The Mandalorian season 3 will premiere on March 1 on Disney+ at 12 am PT, 3 am ET, and 8 am GMT. The season will contain eight episodes.
Star Wars veterans Bryce Dallas Howard, Rick Famuyiwa, and Carl Weathers all returned to helm episodes for season 3, joined by new Mando directors Lee Isaac Chung (Minari), Peter Ramsey (Spider-Man: Into the Spider-Verse), and Rachel Morrison (Black Panther). Showrunner Jon Favreau penned all eight episodes of season 3, with Noah Kloor (The Book of Boba Fett) co-writing episode three and exec producer Dave Filoni co-writing episodes four and seven.
The Mandalorian Season 3 Trailers
Ahead of the show's return, Disney has released several trailers that outline the kind of trouble Din Djarin and Grogu will be getting into this season, from epic fights on Nevarro to a pilgrimage to the Mandalorian homeworld where Din must complete a sacred ritual. Check them out below:
We also have the first clip from season 3, which shows Din and Grogu reuniting with Carl Weather's Greef Karga for a new mission:
The Mandalorian Season 3 Cast and Characters
Most of your favorite characters are coming back for The Mandalorian season 3, including Pedro Pascal as Din Djarin, Katee Sackhoff as Bo-Katan Kryze, Carl Weathers as Greef Karga, Emily Swallow as the Armorer, and Giancarlo Esposito as Moff Gideon. We've even spotted Paul Sun-Hyung Lee back as New Republic pilot Carson Teva in the trailers, which means Dave Filoni's own Trapper Wolf is probably not too far behind. Amy Sedaris' Tatooine mechanic Peli Motto has also become a mainstay of the Mandoverse, so you should probably expect her to show up at some point, too. We also know Timothy Olyphant's lovable gunslinger Cobb Vanth survived his duel with Cad Bane in The Book of Boba Fett and we'd love to see him back in The Mandalorian season 3!
One character you definitely won't see in season 3 is New Republic marshal Cara Dune, who was played by Gina Carano until she was let go by Disney. You can learn more about all that drama here.
We also know of two new additions to the cast. Doc Brown himself, Christopher Lloyd (Back to the Future, Star Trek), will guest star in an episode of season 3, as will Tim Meadows (Schooled).
And, of course, we know our beloved Grogu is back for more adventures, but wait…didn't he go off with Luke Skywalker at the end of season 2? How's he back? Well, let us explain…
How Is Grogu Back?
Fans may be a bit confused when The Mandalorian season 3 kicks off. Mando and Grogu are clearly back together after that heart-wrenching cliffhanger in season 2, but when the hell did that happen? Well, Star Wars TV exec producers Jon Favreau and Dave Filoni made the questionable decision to feature that long-awaited reunion on a completely different series: The Book of Boba Fett. If you skipped episode 5-7 of that spinoff, you'll basically have no idea what the hell is going on in the first episode of The Mandalorian season 3.
While we assume Disney will attach some sort of recap at the start of The Mandalorian season 3 that explains everything, here's the short version: after joining Luke Skywalker at his new Jedi academy and training for a bit, Grogu has a change of heart and decides that he really misses his adoptive dad. So the Jedi Master ships him back via X-wing to Tatooine, where Mando just so happens to be helping Boba Fett and Fennec Shand fight a gang war against the Pyke Syndicate.
Once there, Grogu helps Mando and friends put a rampaging baby rancor to sleep with the Force, saving the city of Mos Espa and Boba Fett's criminal empire in the process. The Book of Boba Fett ends with Din and Grogu flying off on their new ship, a Naboo N-1 Starfighter that Peli Motto fixed up for them! Where are they headed next? To Mandalore, of course!
Bo-Katan, the Darksaber, and Mandalore
If you skipped The Book of Boba Fett, you may not be up to date on Mando's new quest either, although The Mandalorian season 2 did also set up a future journey to Mandalore. Remember back in the season 2 finale when Bo-Katan helped Din save Grogu from Moff Gideon? She wasn't doing it out of the kindness of her heart. It was a transaction: Bo-Katan agreed to join Din on the rescue mission, but only if Din also agreed to help her take back Mandalore at a future date.
Her plan was to win back the Darksaber from Moff Gideon (remember the sacred weapon can only be earned in battle) and then lead the Mandalorians back to their homeworld. Of course, she didn't anticipate that Din would end up winning the Darksaber from Gideon, which technically makes him the rightful warrior leader of the Mandalorian people. Where that leaves Din and Bo-Katan is unclear, but judging from the season 3 trailers released so far, Bo-Katan is pretty salty about Din wielding the blade.
But instead of leading the Mandalorians back to their homeworld, Din just sort of went back to bounty hunting in between The Mandalorian season 2 and The Book of Boba Fett, too sad about losing his little son to go fight a war on a planet he's not even technically from. Instead, he tries to rejoin the Armorer and the rest of the Children of the Watch at their new covert on the Glavis Ringworld space station. That doesn't go well.
When Din admits to the Armorer that he removed his helmet and revealed his face to Grogu and others during his adventures in season 2, he's basically excommunicated from his tribe and labeled an "apostate." (Remember, showing your face to another living being is a big no-no for this sect of Mandalorians.) The Armorer informs him that the only way Din can regain his place with his people is to bathe in the "living waters beneath the mines of Mandalore." Thus, Din, now reunited with Grogu, finally has a reason to pick up where he left off at the end of season 2 and head to Mandalore with Bo-Katan and the other warriors.
Where's Moff Gideon?
Good question! We assume he's been thrown in a New Republic prison cell after being captured at the end of season 2, but his imprisonment might not last all that long.
"You're going to get some Moff Gideon. I mean, I always want more Moff Gideon — I've got to be honest with you! But, you know, you're going to get a good amount of Moff Gideon," Giancarlo Esposito told TV Line in January. "You always want to see the phoenix rise from the ashes. Or, you want to see a nefarious villain rise from the ashes. And believe me, he will."
Sounds ominous!
Will Ahsoka Tano and Luke Skywalker Return?
Considering Ahsoka and Luke have both been positioned as key players in the galactic events unfolding in the Mandoverse, it seems reasonable to assume that they'll each show up at some point in season 3. We last saw them together on The Book of Boba Fett, and we know Ahsoka will soon star in her own spinoff series, which will also bring several characters from the Rebels animated series to live-action for the first time. Of course, that could mean that the next phase of Ahsoka's story will happen exclusively on the spinoff show, but considering the crossover nature of all these series, it's possible Disney will use an episode of The Mandalorian season 3 as a backdoor pilot for Ahsoka's solo adventures with Hera Syndulla and Sabine Wren.
Luke's arc as it relates to the Mandoverse is harder to pin down. Since Grogu's decided to skip the Jedi shenanigans, it would certainly seem that the Skywalker portion of their story is over. But something tells us that there's no way Disney puts Luke back in a box now that they've brought him back.
What's Up With Boba Fett and Fennec Shand?
The Book of Boba Fett finale leaves its titular crime boss and his partner, the assassin Fennec Shand, in a pretty good place. After clearing out the Pykes from his city, Boba's now the undisputed daimyo (ruler) of Mos Espa on Tatooine, taking over from the very dead Jabba the Hutt. Presumably, running a criminal organization is going to take up a lot of Boba's time going forward, which means less time for off-planet on adventures with his pal Din Djarin.
That said, Mando does love paying Tatooine a visit at least once per season, and if he does in season 3, we can assume he'll pop into Boba's Palace at some point, at the very least to check on Cobb.
A Big Jedi Flashback and Grogu's Origin?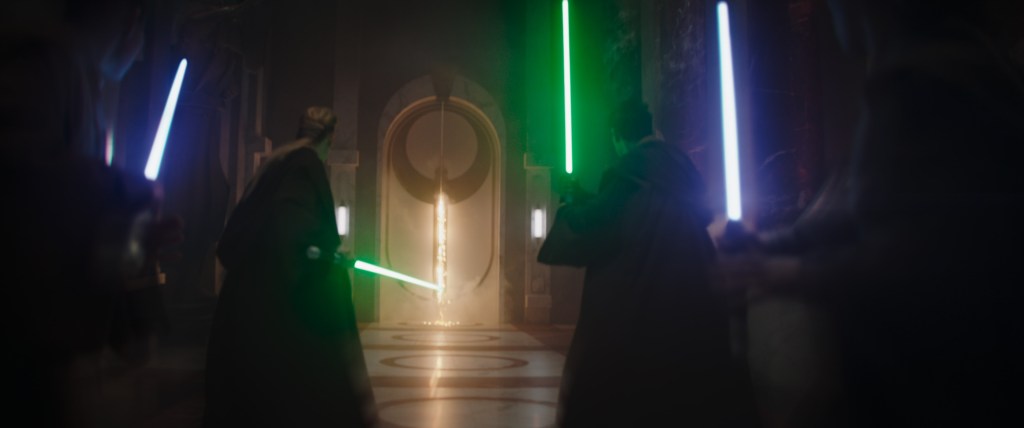 Lastly, we need to talk about those mysterious Jedi who pop up in the trailers, lightsabers at the ready as someone on the other side of a locked door tries to break in. While we don't know for sure what's going on in that very brief snippet of footage, it seems very likely that this is a continuation of Grogu's vision from The Book of Boba Fett in which he relived the attack on the Jedi Temple during Order 66. We know that the little youngling was at the temple on Coruscant when Anakin Skywalker led a battalion of clone troopers to massacre every Jedi in its halls, and that he somehow escaped the siege, but we still don't know how or who helped him hide as the Empire and its inquisitors hunted down what remained of the Order.
It's possible this new flashback will finally bring Grogu's origin story into full view, bridging the gap between his time with the Jedi Order and the misadventures that led him to that mercenary camp on Arvala-7. Who saved Grogu all those years ago and is this hero still out there?
You can read much more about upcoming Star Wars TV series and movies here.